11 hr 45 min ago
Ukraine's president to NATO: Give us just 1% of what you have
From CNN's Andrew Carey and Yulia Kesaieva in Lviv 
Ukrainian President Volodymyr Zelensky has told the NATO leaders meeting in Brussels that Ukraine needs just a fraction of the alliance's combined firepower. 
"You can give us 1% of all your planes. One percent of all your tanks. One percent!" he said in an address on Facebook. 
"You have thousands of fighter jets, but we have not been given one yet …  we turned [to you] for tanks so that we can unblock our cities … you have at least 20,000 tanks … but we do not have a clear answer yet," Zelensky said. 
He appealed to leaders to make the necessary decisions to make it happen. 
"We can't just buy [these items]. Such a supply depends directly on NATO's decisions, on political decisions," Zelensky said. 
He also said NATO leaders should acknowledge what Ukraine's armed forces have demonstrated in the war against Russia. 
"Please, never tell us again that our army does not meet NATO standards. We have shown what standards we can reach. And we have shown how much we can give to the common security of Europe and the world," Zelensky said.
12 hr 15 min ago
Emergency summits are underway in Brussels. Here's what to expect — and what not to
From CNN's Kevin Liptak
Historic, emergency summits are underway in Brussels as US President Joe Biden works to rally the West behind a strategy to confront Russia following its invasion of Ukraine. 
What's happening this morning:
World leaders, including Biden, arrived at NATO headquarters on Thursday morning, posing for a brief family photo before entering a lengthy closed-door session.
Biden did not stop to speak on his way in; other leaders made brief remarks and took questions. We have not heard from Biden yet today.
The NATO session currently underway was expected to focus partly on what to do if Russia deploys a chemical, biological, or even nuclear weapon. US officials have quietly been mapping out potential ways the US could respond if Russian President Vladimir Putin took such an extreme step.
Other topics — including new sanctions on Russia, NATO's force posture, and military assistance to Ukraine — are all expected as part of the last-minute diplomatic burst.
 What to expect later today:
While Biden's at NATO headquarters, he will meet with the leaders of the G7, where new sanctions are expected to be announced. Biden is expected to take a G7 family photo at 9:10 a.m. ET (2:10 p.m. local time) before the meeting, which takes place at 9:15 a.m. ET (2:15 p.m. local time).
Biden will then head to the European Council, where the issue of European dependence on Russian energy is expected to dominate. He arrives at 11:20 a.m. ET (4:20 p.m. local time) and will hold a meeting with European Council President Charles Michel. The European Council Summit begins at 12 p.m. ET (5 p.m. local time).
Biden then heads back to NATO headquarters for a 3 p.m. ET (8 p.m. local time) news conference.
What leaders won't do:
As the snap NATO summit got underway, leaders heard a call for more help from Ukrainian President Volodymyr Zelensky, who addressed the gathering virtually. He stopped short of issuing his usual request for a no-fly zone. But he did say Ukraine needs fighter jets, tanks and better air defenses.
Western leaders would not implement a no-fly zone even if Zelensky reiterated calls for it. US and NATO officials have repeatedly said that it would risk provoking Russian President Vladimir Putin and sparking a wider war with Russia. Western allies have also found it difficult to take more aggressive steps, such as providing Russian-made fighter jets to Ukraine or deciding to cut themselves off from Russian energy supplies, which could potentially cripple Russia's economy.
European leaders have also outlined their own limitations in punishing Russia. While the US has imposed a ban on imports of Russian energy products, Europe remains far more dependent and has stopped short of cutting itself off completely.
 Read more: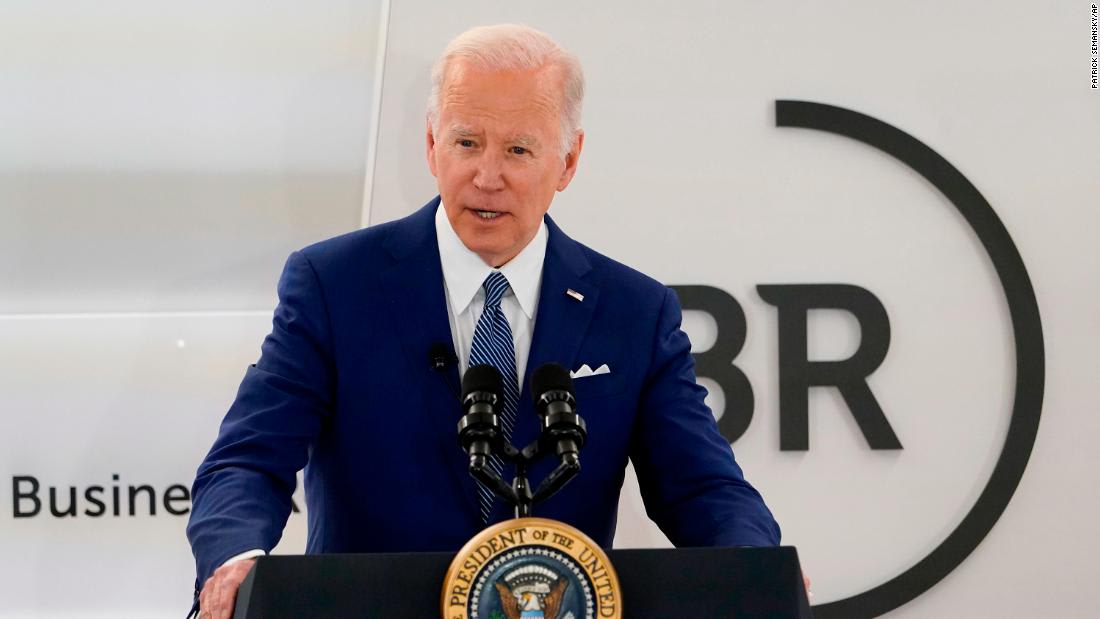 12 hr 38 min ago
Qatar will stand "in solidarity" with Europe by continuing supplying gas, energy minister says
From CNN's Becky Anderson, Mostafa Salem and Adam Pourahmadi in Doha
Qatar will stand "in solidarity with Europe" and will not divert gas contracts to other customers, even if it means losing on possible financial gains, Qatari Energy Minister Saad Al Kaabi told CNN's Becky Anderson in an exclusive interview on Thursday. 
The energy-rich Gulf monarchy supplies some European countries with gas in the form of divertible contracts, which means they are able to divert supply across to other customers. 
"We're not going to divert [contracts] and will keep them in Europe, even if there is financial gain for us to divert away, we would not do that," Al Kaabi said. 
"That's in solidarity with what's going on in Europe," he said.
Still, the minister rejected imposing sanctions on Russia's energy sector, saying "energy should stay out of politics" and reiterated that completely stopping Russian gas supply to Europe is "not practically possible." The minister also said that his nation is not "choosing sides" in the Russia-Ukraine conflict. 
Earlier this week, top German officials, including Economy Minister Robert Habeck, visited Qatar for talks on supplying long-term gas to Europe in the midst of Russian energy uncertainty. Reports surfaced of a deal between Qatar and Germany on gas supply; however, the Qatari minister denied that a deal had been reached. 
"We have not agreed a long-term agreement with Germany yet, but we're willing to discuss with the companies that we have been discussing to put a long-term agreement in place potentially. This is a commercial agreement between commercial entities," Al Kaabi said. 
British Prime Minister Boris Johnson visited Saudi Arabia and the United Arab Emirates last week in an attempt to sway both nations into increasing oil supply into the market despite a deal with Russia capping oil supply. The two countries have spare capacity to possibly ease a global oil deficit, but both gulf nations have so far remained committed to the OPEC+ deal with Russia — even after Russian President Vladimir Putin's invasion of Ukraine. 
Qatar, which withdrew from OPEC in 2019 after a diplomatic rift with its neighboring countries said they are not planning on returning to the cartel. Al Kaabi, however, still supported supply moves by the organization, calling their plan "very sensible."
12 hr 40 min ago
Top Russian military leaders have declined calls from US military leaders, Pentagon says
From CNN's Barbara Starr
Senior Russian military leaders have declined calls from their US counterparts since before the invasion of Ukraine began, the Pentagon spokesman said Thursday.
"Over the past month, Secretary Austin and Chairman Milley have sought, and continue to seek, calls with their Russian counterparts. Minister Shoigu and General Gerasimov have so far declined to engage. We continue to believe that engagement between U.S. and Russian defense leaders is critically important at this time," Pentagon press secretary John Kirby said in a statement. 
CNN has previously reported that the last known time Austin last spoke with Russian Minister of Defense Sergei Shoigu was on February 18. Joint Chiefs Chairman Gen. Mark Milley last spoke to the Chief of Russian General Staff Gen. Valery Gerasimov on February 11.
12 hr 42 min ago
US expected to accept up to 100,000 refugees fleeing crisis in Ukraine
From CNN's Kevin Liptak
The United States plans to accept up to 100,000 refugees fleeing the war in Ukraine, a person familiar with the decision says — a major step toward easing a brewing humanitarian crisis in Europe.
President Joe Biden was expected to unveil the decision as he travels in Europe to rally support behind a united approach to the crisis.
Leaders from Poland in particular have called on the US to expedite the processing of refugees with family in the US.
More than 3.6 million people have now fled Ukraine, according to the latest update from the UN Refugee Agency.
13 hr 2 min ago
Zelensky calls for more assistance in virtual call inside closed-door NATO meeting
From CNN's Kevin Liptak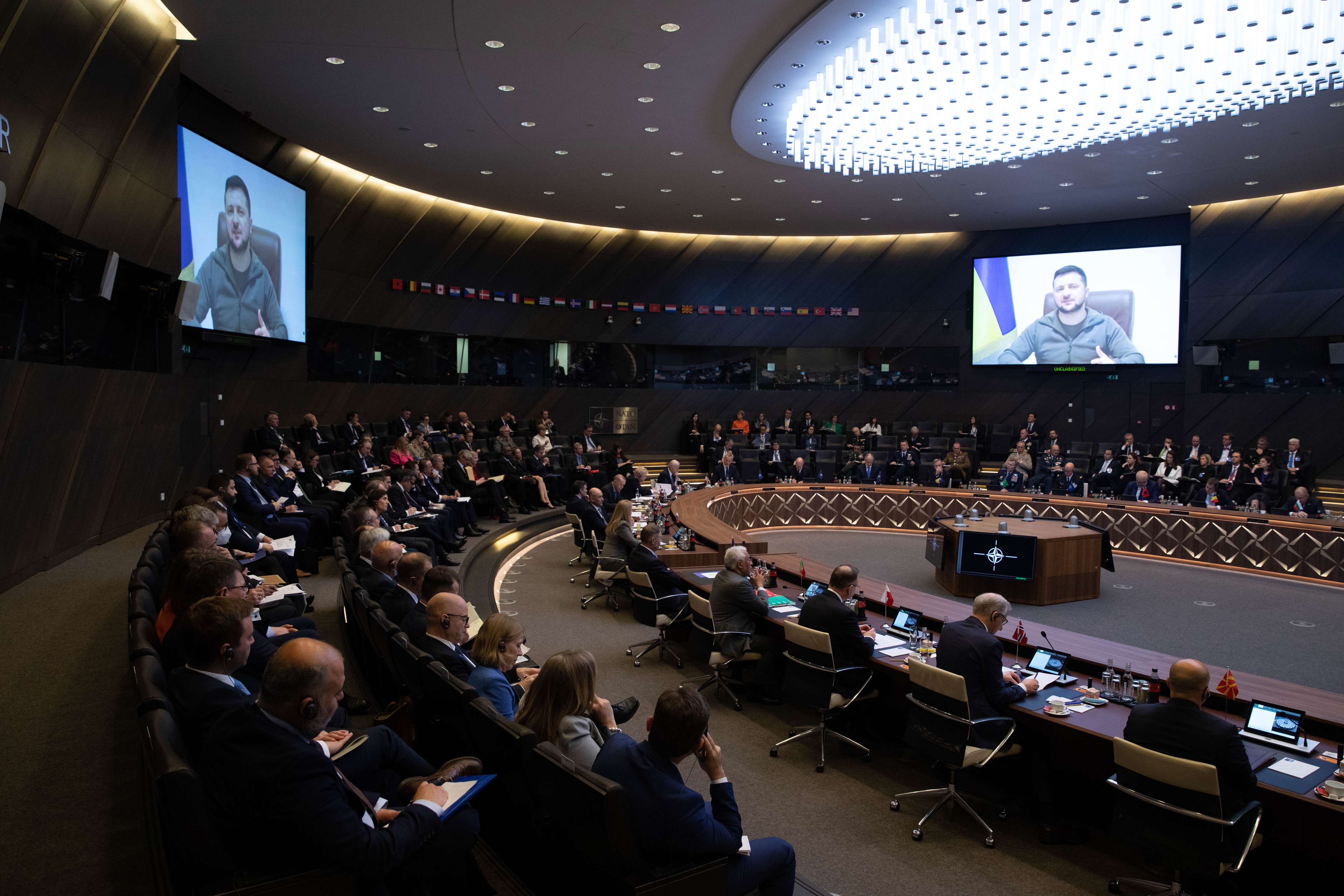 Leaders attending a closed-door snap NATO summit heard an impassioned call from Ukrainian President Volodymyr Zelensky for new Western security assistance, according to a senior US administration official who heard the remarks.
The Ukrainian leader stopped short of issuing his usual calls for a no-fly zone or NATO membership. But Zelensky in a virtual address spoke "very eloquently" to describe his military's efforts to defend Ukrainian citizens and democratic values, the official said.
The virtual address from Zelensky kicked off the summit, which is taking place in private. US President Joe Biden spoke next, laying out the coordinated Western approach on sanctions, reiterating strong support for Ukraine and reinforcing US commitment to NATO.
Biden "laid out a number of issues that the alliance is going to have to grapple with" in the coming months before the NATO alliance meets again at the end of June in Spain, the official said.
That includes finalizing force posture changes on NATO's eastern flank.
The mood inside the NATO summit was "sober, resolute, and incredibly united," the official said.
"There was a very strong sense that we are facing a significant historical moment, and very strong support from all the leaders who spoke about the need to defend our democracy," the official said.
Other topics that arose included China, and a collective desire to avoid Beijing supporting Russia in its invasion.
And leaders discussed contingencies should Russia use a chemical or nuclear weapon on the battlefield in Ukraine.
"I think there is a recognition that NATO needs to continue a lot of the good ongoing work to be prepared to respond to various contingencies," the official said.
13 hr 5 min ago
"This is what we call a stable situation," says Kharkiv governor amid intensified Russian military attacks
From CNN's Olga Voitovych and Andrew Carey in Lviv 
As Russia's assault on Ukraine enters its fifth week, Kharkiv's governor, Oleh Synehubov, has given an indication of the toll it is taking on the city and surrounding areas. 
Synehubov reported there had been 44 shellings from artillery, tanks and mortars, as well as 140 multiple-launch rocket attacks in the northeastern region of Ukraine, over the course of the last day. 
"This is what we call a stable situation," he said on Thursday.   
On Wednesday, Kharkiv officials reported some 998 residential buildings had been damaged or destroyed since the start of Russia's offensive. 
Synehubov's comments also included a reminder of the importance of Russia's Black Sea Fleet to Putin's offensive against Ukraine's key cities. 
The center of Kharkiv — which lies about 310 miles (500km) from the sea — was struck overnight by cruise missiles fired from Russian warships, Synehubov reported.
His comments come as Russian forces are becoming more active in the eastern part of Ukraine in the Donbas area, saying they've "applied a lot more energy" in the Luhansk and Donetsk regions, the two areas the Kremlin declared as independent republics ahead of last month's invasion.
CNN's Ellie Kaufman and Jeremy Herb contributed reporting to this post.
10 hr 53 min ago
It's 2 p.m. in Kyiv. Here's what you need to know
New footage shows the extent of destruction in some cities caused by Russia's month-long invasion of Ukraine, as Western leaders gather in Brussels to conduct extraordinary sessions of NATO, the European Council and the G7.
Destruction in Ukraine: It's been exactly one month since Russia invaded Ukraine, and Ukrainian President Volodymyr Zelensky is calling for worldwide demonstrations to mark the date.
The mayor of Chernihiv said the northern Ukrainian city's cemetery cannot handle all the dead. Badly damaged buildings line rubble-strewn streets, while still-burning fires fill the air with heavy smoke, as seen in a video from Mayor Vladyslav Atroshenko.
New videos from Mariupol show the desolation of the besieged Ukrainian city, with deserted, debris-filled streets, blown-out cars and destroyed buildings.
The first videos and images have emerged from the city of Izyum, showing widespread destruction, charred and bombed-out buildings, and bodies left in the streets. The Russian military claims to have taken control of the city, which the Ukrainians deny.
Meanwhile, a large Russian ship was destroyed in the Russian-occupied port of Berdyansk in southeastern Ukraine, according to the Ukrainian Navy on Thursday. CNN could not confirm the Navy's claim, although social media videos appear to show a large fire with secondary explosions in the port. And Ukrainian forces have pushed Russian forces back on the frontlines around Kyiv, a senior US defense official told reporters Wednesday.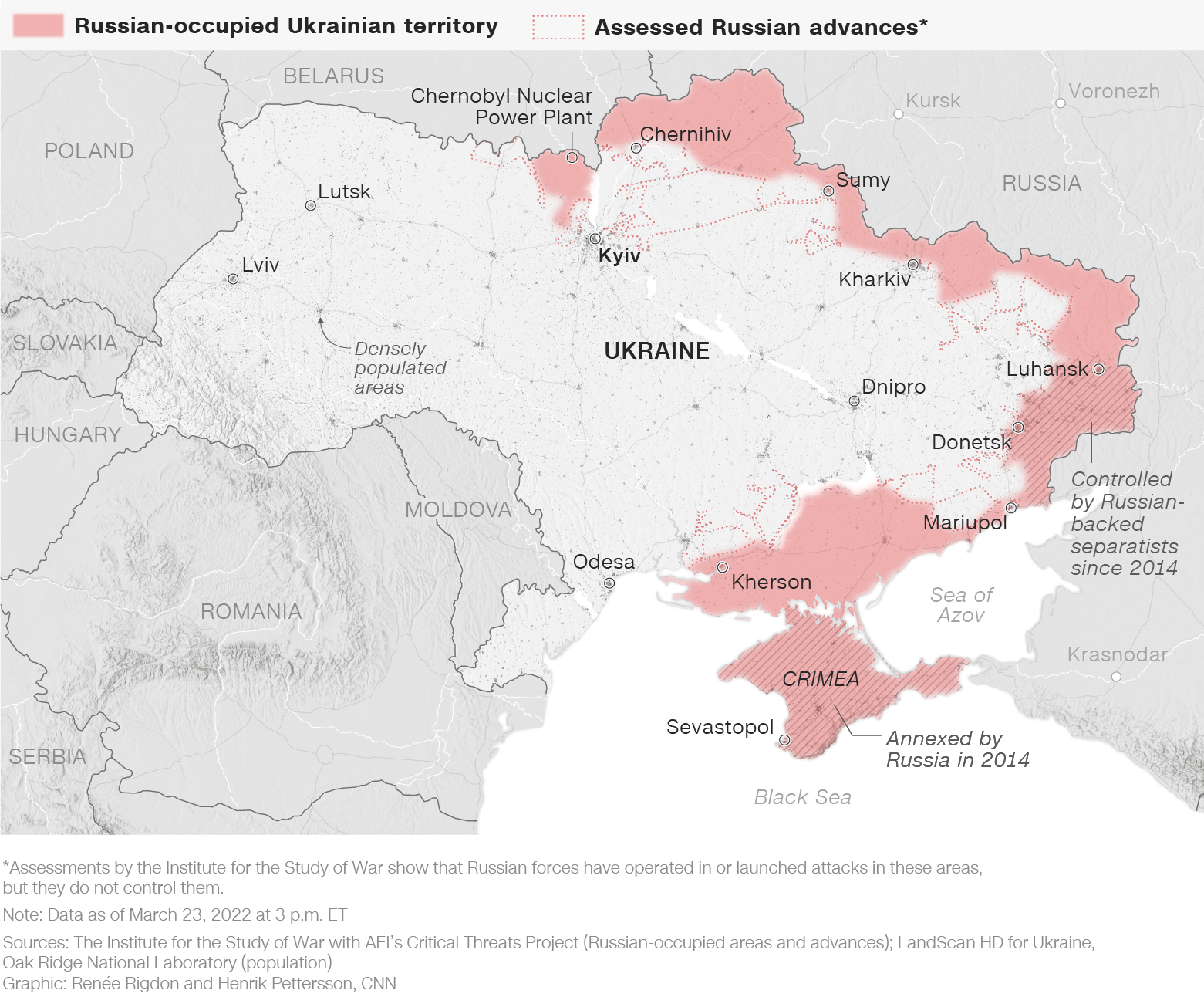 Refugees: More than 2 million Ukrainian refugees have crossed into Poland since Russian forces invaded Ukraine a month ago, which is "the fastest displacement crisis we've seen since the Second World War," according to the International Rescue Committee.
One in every two Ukrainian children has been displaced since Russia began its invasion on February 24, according to the UN Children's Fund.
The US plans to accept up to 100,000 refugees fleeing the war in Ukraine, a person familiar with the decision said.
Summits underway: Announcements on new sanctions, NATO force posture and military assistance are all expected as part of the diplomatic burst, according to US and European officials. What they won't do is what Zelensky has repeatedly asked: Enforce a no-fly zone over Ukraine. Zelensky is expected to address NATO leaders virtually.
The NATO session currently underway was expected to focus partly on what to do if Russia deploys a chemical, biological, or even nuclear weapon.
Russian leadership: Kremlin spokesperson Dmitry Peskov dodged CNN questions about the health of Russian Defense Minister Sergei Shoigu and confirmed that longstanding government insider Anatoly Chubais quit his job as President Vladimir Putin's climate envoy.
9 hr 38 min ago
Ukrainian flag hoisted in Russian-occupied city of Kherson
From CNN's From Tim Lister and Olga Voitovych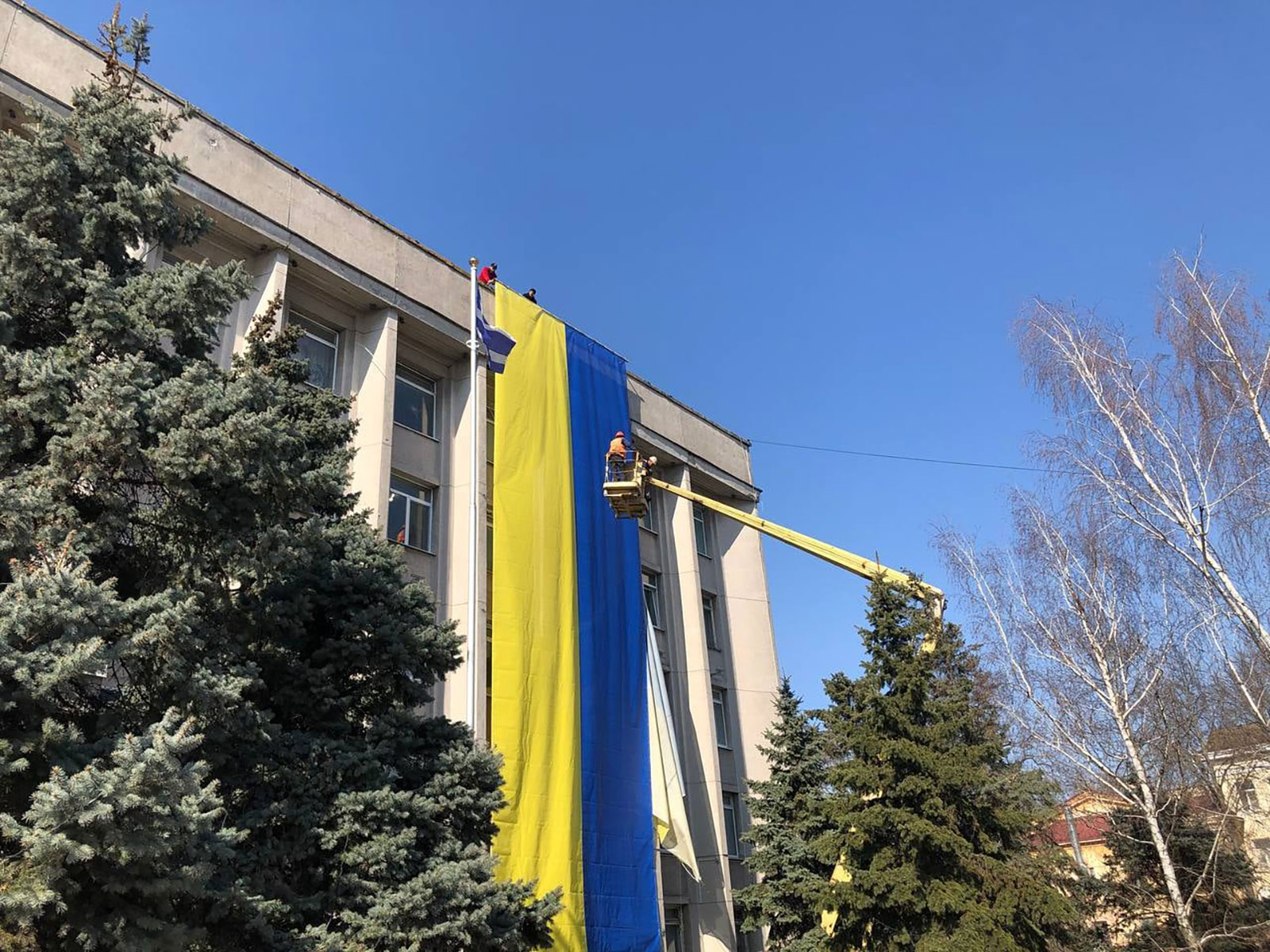 The mayor of the Russian-occupied city of Kherson, Ihor Kolykhaiev, in southern Ukraine, has posted photographs of a long Ukrainian flag draped down the wall of the city hall.
Russian forces are normally stationed at the city hall but don't appear to have intervened.
There have been several protests by Ukrainian civilians in the square where the building is located since Russian forces moved into Kherson.
The photographs show workers on a crane mounting the new flag.
"On the night when the city council was shelled, the wire which held our national flag was damaged. And the flag itself should have been replaced a long time ago — it had faded and frayed," Kolykhaiev said in a Facebook post.
"Today we found a way to replace it. Have a nice day, my Hero City," Kolykhaiev added.
Kherson, a key port city on the Black Sea, in southern Ukraine, was overrun by Russian forces on March 2, after days of heavy bombardment and shelling. 
People living in Kherson have described days of terror confined to their apartments and houses, fearful to go outside for even basic necessities — their city now a dystopian shell of the home they knew and loved.
CNN's Tamara Qiblawi and Gianluca Mezzofiore contributed reporting to this post.