The NBA trade deadline has passed, but fans saw the biggest blockbuster of the season shortly before the 3 p.m. ET cutoff. James Harden is heading to the Philadelphia 76ers in a package featuring Ben Simmons, per multiple reports. The Harden-for-Simmons deal changes the Eastern Conference landscape and was one of many moves pulled off Thursday. Kristaps Porzingis, Goran Dragic, Donte DiVincenzo and Marvin Bagley III were also dealt in the hours leading up to the deadline, and notable names like CJ McCollum, Domantas Sabonis and Buddy Hield moved earlier this week.
Not every team made noise, however. The Los Angeles Lakers, who appeared desperate to make a move of some kind to support LeBron James and Anthony Davis, were silent. So were the New York Knicks, who stood pat after adding Cam Reddish a few weeks ago.
If you missed any of the deals, we've got you covered. We tracked every trade, and rounded up the notable rumors. Check out the moves below.
Key trades ahead of Feb. 10 deadline
For in-depth analysis on every trade, click here.
See New Posts
Pinned
Porzingis shocker
Kristaps Porzingis is on the move…. to the Washington Wizards. The Mavericks are sending the big man to Washington in exchange for a package that includes Spencer Dinwiddie and Davis Bertans, per reports.
Pinned
Wizards get in on the action
The Wizards are making a few pre-deadline moves. Washington is sending Montrez Harrell to Charlotte and Aaron Holiday to Phoenix, per reports.
Pinned
Harden opts into $47.3M
Something a little lost in the shuffle from all of the buzz surrounding the James Harden-Daryl Morey reunion in Philadelphia. According to Shams Charania of The Athletic, the newest member of the 76ers with this deal is opting into his $47.3 million player option on contract for next season. That's a lot of dough!
Pinned
Suns and Pacers make a deal
The Suns have the best record in the league but that doesn't mean they're going to technically stand pat at the deadline. According to Adrian Wojnarowski, the Pacers are finalizing a trade to send Torrey Craig to the Suns for Jalen Smith and a future second-round pick.
Pinned
Spurs and Celtics make a deal
The Celtics are trading Josh Richardson, Romeo Langford and a protected 2022 first-round pick to the Spurs in exchange for guard Derrick White. Boston's first rounder is protected 1-4. The Spurs also received a protected first-round pick this year from the Raptors in the Goran Dragic deal.
Pinned
Let's check in on Joel Embiid
Pinned
How soon could we see Simmons on the floor?
CBS Sports HQ analyst Avery Johnson said he's spoken directly to Ben Simmons' agent Rich Paul on how soon we could see the embattled star on the floor in a Brooklyn uniform. It sounds as if Nets fans may need to be a little patient with their new addition:
"It's going to take some time but physically he's there," Johnson said on CBS Sports HQ. "The change of scenery is going be outstanding for him. Ben is really excited."  
Pinned
Brooklyn might not be done
The Nets have broken up their Big 3 in a blockbuster deal on Thursday that sends Ben Simmons, Seth Curry, Andre Drummond and a pair of first-round picks to Brooklyn. According to Adrian Wojnarowski of ESPN, Sean Marks and the Nets may not be done wheeling and dealing before the 4 p.m. ET deadline now that they're armed with two first rounders. Who else could we see coming to Brooklyn and joining Kevin Durant?
Pinned
Nets' championship odds rise
With James Harden out of the door, leaving Brooklyn to link up with Daryl Morey in Philadelphia, the 76ers have seen their NBA championship futures go from +1300 to +700, according to Caesars Sportsbook.
Pinned
Harden-Simmons blockbuster trade details
Nets get: 
• Ben Simmons
• Seth Curry
• Andre Drummond
• Two first-round picks
According to Adrian Wojnarowski, Brooklyn will get Philly's 2022 first-round pick unprotected with a right to defer until 2023 and a 2027 first-round pick protected 1-to-8. The 2027 pick would roll over to 2028 protected 1-to-8 again. The pick turns into two seconds and $2M in 2029.
76ers get: 
• James Harden 
• Paul Millsap
Pinned
Simmons is reportedly vaccinated
Here's something we never thought we'd have to point out prior to the pandemic. As the Nets grapple with Kyrie Irving only being available for road games because of New York's vaccination requirements, Ramona Shelburne of ESPN is reporting that Ben Simmons is indeed vaccinated, clearing the way for his availability for every Brooklyn game, which I'm sure the Nets did their due diligence in the process of striking this deal with Morey and the 76ers.
Pinned
BEN SIMMONS TRADED FOR JAMES HARDEN
It's finally happening! The Brooklyn Nets are trading James Harden to the Philadelphia 76ers for Ben Simmons, Seth Curry, Andre Drummond and two first-round picks, according to Shams Charania and Adrian Wojnarowski. Daryl Morey gets to keep Matisse Thybulle and is reunited with his former Rockets star in Philly while Ben Simmons gets the breakup he so desperately desired following his terrible postseason play and in-season holdout.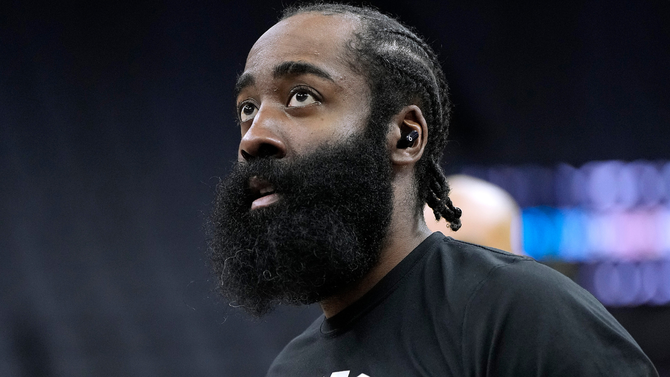 Pinned
A brief thought: I wonder if Brooklyn would send Philadelphia Bruce Brown back to replace Matisse Thybulle if the 76ers ultimately relent. He would give the new-look 76ers some of the defense they sacrificed back. The issue is that Brown has veto rights as an impending Early Bird free agent on a one-year deal, and getting him to agree to waive those rights on such a time crunch would probably be difficult.
Pinned
Matisse Thybulle is the last hold up. Everything else in a James Harden-for-Ben Simmons trade has been agreed to, according to Keith Pompey.
Pinned
It looks like we've found our sticking point. The Nets want Matisse Thybulle in a possible James Harden trade, according to Ian Begley. We'll see if Philadelphia folds and surrenders their top defender.
Pinned
A brief pause in four-team trade analysis to bring you this, from Sam Amick: "There's a whole lot of optimism coming from the Ben Simmons camp that a deal with Brooklyn gets done." Woj adds that there "is motivation on both sides to get a deal done."
Pinned
Clippers perspective: They saved a bunch of money! The Clippers were in such a high tax bracket that getting off of Ibaka now will ultimately end up saving them tens of millions of dollars. Those dollars have no on-floor impact, though, it's just money out of Steve Ballmer's pocket. From that perspective, this is a great deal for the Clippers because the alternative of dumping him wholly into Oklahoma City's cap space would have probably cost more draft capital. Ballmer was willing to spend the cash necessary to keep extra draft picks. That's what the best owners do.
Pinned
Milwaukee's perspective: I always liked the idea of Serge Ibaka as a Bucks target… but felt it was likelier that he came via a buyout. The Clippers could have likely used draft capital to send him into Oklahoma City's cap space and saved a fortune in luxury tax bills. They're saving plenty here, but this route makes Ibaka a trade acquisition over a buyout. There are benefits to that for Milwaukee. The Bucks will now have Ibaka's bird rights in the offseason, for instance.
But Donte DiVincenzo was their one trade chip, and there were probably better players they could have allocated it towards than Ibaka. What this deal suggests is that Brook Lopez, who has been out since opening night with a back injury, is further away from returning than we thought. Milwaukee badly needed another rim protector that could shoot. There are only so many of those in the NBA. The Bucks got one and insured themselves against Lopez's absence in the playoffs. It's hard to fault them too much for that even if this might have been a slight overpay.
Pinned
Okay, let's circle back to the four-team trade from earlier. As a reminder, here's who's going where: 
Bucks get: Serge Ibaka, two second-round picks, cash 
Clippers get: Rodney Hood, Semi Ojeleye 
Kings get: Donte DiVincenzo, Josh Jackson, Trey Lyles 
Pistons get: Marvin Bagley III
Pinned
The Brooklyn Nets and Philadelphia 76ers were engaged in trade talks about you know who earlier this morning, per Chris Haynes. No word on where talks stand as of now.
Pinned
Doc Rivers has canceled 76ers practice today, calling it the "human thing to do" in light of all of the rumors surrounding his team. Make of that what you will. For now, no Harden-for-Simmons deal appears imminent.
Pinned
Minor trade alert! Boston and Orlando are swapping injured youngsters. Bol Bol will head to Boston. Dozier's going to Orlando, per Woj. Both are out for the year. Cash and a swap of second-round picks will be involved as well. This is now the third time Bol has been traded this season. He failed a physical after Denver tried to send him to Detroit. They rebounded to get him to the Magic, but now the Magic are sending him to the Celtics. Dozier is a more proven commodity as a role player, but Bol's upside as a big man that can shoot and dribble is substantially higher. It has just never been realized.
Pinned
Harden-Simmons latest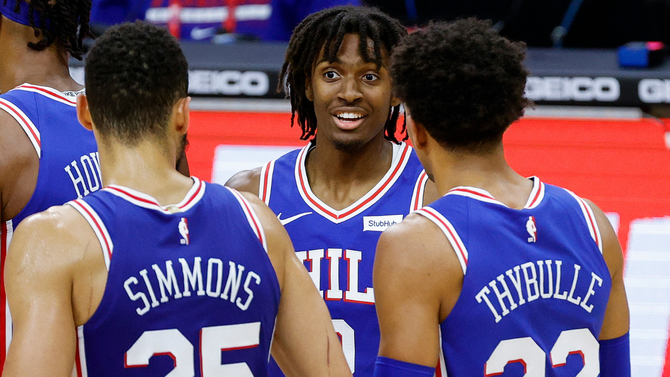 The chances of a potential James Harden-Ben Simmons blockbuster happening in the next 2.5 hours could come down to the other players who are (or aren't) in the deal, per Keith Pompey of the Philadelphia Inquirer. The Sixers have "been adamant about not packaging their young standouts Tyrese Maxey and Matisse Thybulle," writes Pompey.
Pinned
As for Dragic, he's headed for the buyout market. Dallas will be the favorite to land him, according to Chris Haynes, and that makes sense given his connection to fellow Slovenian Luka Doncic. Keep an eye on Miami, though. The Heat could not have reacquired Dragic had he been bought by Toronto, but their reacquisition restriction ended the moment he was traded to another team. 
Pinned
Okay, let's talk about these deals, starting with the Dragic-Young swap. 
That trade is a home run for San Antonio. Days ago, it didn't appear certain that the Spurs would get a first-round pick for Young. Now they've gotten a fairly good one. Hard to do better for a player you were barely using, and it makes the DeMar DeRozan sign-and-trade look even better for them now. The Spurs got two first-round picks for a player they never planned to re-sign. Not too shabby.
The Toronto side is a bit more complicated. Young will help, but he's 33 and on an expiring contract. As well as he fits into Toronto's "we only play 6-8 forwards and Fred VanVleet" ethos, he's probably a short-term addition. That's the sort of player contenders add every year, but the cost for Toronto was steeper than it would be for most teams. This front office has landed Pascal Siakam, Jakob Poeltl, OG Anunoby and Scottie Barnes with four of its last five first-round picks. That's an absurd batting average. The first-round pick Toronto is giving away had far more value to them, specifically, than it does to most teams.
Pinned
Dragic to hit buyout market
Unsurprisingly, the Spurs will let Dragic hit the buyout market after acquiring him from Toronto, per Woj. The Bucks, Mavericks and more are expected to try to acquire the veteran guard.
Pinned
Four-team trade details
Here's what appears to be the full, four-team trade between the Bucks, Kings, Clippers and Pistons, per ESPN.
Pinned
The four-team deal is starting to round into shape. Semi Ojeleye and Rodney Hood will also go to the Clippers, per Woj. This will leave the Bucks with at least two open roster spots to use on the buyout market.
Pinned
An important note on that Dragic-Young trade: if Dragic is off of the table, the Raptors don't have an easy way to match salary on Talen Horton-Tucker. That's going to make the rumored three-team swap with Toronto, Los Angeles and New York significantly harder.
Pinned
We don't even know the entire four-team trade yet and we have another deal to report: Goran Dragic to the Spurs, Thad Young to the Suns, per Shams. I would guess there will be some draft compensation headed to San Antonio here. 
See More