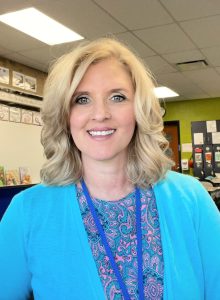 BATESVILLE, IN — Kayla Pinckley, a Batesville Intermediate School (BIS) fourth-grade teacher, has been named a recipient of a 2022 Teacher Creativity Fellowship from Lilly Endowment Inc., announced BIS Principal Dana Cassidy. The Teacher Creativity Fellowship Program (TCFP) supports educators throughout Indiana by providing resources for them to take time for meaningful renewal.
"BIS is proud that one of our teachers has been selected for this prestigious program," Cassidy said. "The award will give her the chance to explore a personal interest that includes an educational component, which she can then bring back to our schools and integrate into the classroom environment. In addition, she will have some well-earned time away to renew her spirit."
Through the TCFP program, full-time education professionals in Indiana who have daily face-to-face interaction with students in Indiana's public, private and charter schools are eligible to submit fellowship proposals. The purpose of the program is to provide funding for intentional experiences that would restore educators' enthusiasm for their profession and stimulate their creativity, which should in turn enhance the educational experiences of their students.
Pinckley's selected project, "Living in the Zone: A Search for Longevity," will study the specific lifestyle characteristics that lead to a long and healthy life. Funding from the Lilly Endowment program will allow her to visit the Nuoro region on the island of Sardinia in Italy for six weeks this summer. Nuoro is home to the greatest concentration of centenarians in the world. Through her trip, she hopes to discover the secrets to living a healthier and happier life.
"My plan for renewal is to reside in the area for up to six weeks," Pinckley shared, "spending my days exploring the region and visiting the people there to learn their secrets to longevity. My itinerary includes having lunch with the shepherds in the region, learning to speak Italian, and visiting with an elderly couple that has been married for over 75 years, among other adventures. I want to learn how their lifestyle leads to a long life and bring that information back to my school."
Pinckley will be blogging about her experience while traveling and then will share the knowledge she gains through her renewal project with the Batesville Community School Corporation (BCSC) community upon her return.
"Upon returning from my journey to Sardinia, I will work with the school district's coordinated health committee to implement a Blue Zones Challenge in my school community," Pinckley explained. "Blue Zones are places in the world where researchers found that people reach age 100 at rates 10 times greater than in the United States. My goal will be to further enhance the incorporation of healthy lifestyle choices into our school curriculum."
The teacher's "Living in the Zone: A Search for Longevity" TCFP proposal was borne out of personal experience, as Pinckley lost both of her parents to preventable illnesses within eight weeks of each other in 2020. In addition, the stress from teaching students in-person while simultaneously teaching online to quarantined students took its toll on Pinckley's health.
"My work-life left very little time for my own personal health and well-being," Pinckley said. "Watching my parents suffer from poor health in their last few years and eventually dying before either of them had reached the age of eighty, I realized that I needed to make some changes to take care of my own health. Through my project and blog, I will be able to reflect on my current lifestyle choices and eating habits and work toward living a longer, healthier, and happier life."
Lilly Endowment Inc. is an Indianapolis-based, private philanthropic foundation created in 1937 by J.K. Lilly Sr. and sons J.K. Jr. and Eli through gifts of stock in their pharmaceutical business, Eli Lilly and Company. While those gifts remain the financial bedrock of the Endowment, the Endowment is a separate entity from the company, with a distinct governing board, staff, and location. In keeping with the founders' wishes, the Endowment supports the causes of community development, education and religion and maintains a special commitment to its hometown, Indianapolis, and home state, Indiana.
(Batesville Community School Corporation press release)