Here are the latest COVID-19 updates in Central Texas for Monday, Jan. 10.
AUSTIN, Texas — Editor's note: This blog is no longer being updated. Click here for Tuesday's blog.
KVUE is keeping you updated with the latest coronavirus and COVID-19 news in the Austin area. 
Scroll down for the top headlines and latest updates in KVUE's daily live blog.
COVID-19 numbers:
Texas: 
Central Texas counties: 

Austin-Travis County: The seven-day moving average for new hospital admissions is 108, and an average of 445 people are hospitalized. The community transmission rate is 1,725 and the positivity rate is 31%. Since the beginning of the pandemic, 138,751 cases have been reported and at least 1,222 people have died.
Hays County: There are currently 5,213 active cases, and 21 people are currently hospitalized. Since the beginning of the pandemic, at least 37,041 confirmed cases have been reported and at least 418 people have died. 
Williamson County: There are 1,252 new cases of coronavirus in Williamson County. Sixteen percent of hospital beds are available, and 9% of ICU beds are available. Since the beginning of the pandemic, at least 83,322 cases have been reported and at least 758 people have died.
For a look at COVID-19 data across all of the state's counties, click here.
GRAPHS: COVID-19 data Jan. 10, 2022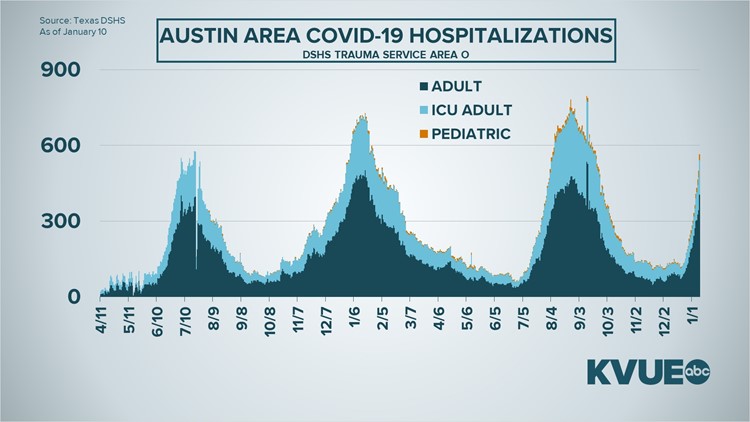 Updates:
8:05 p.m. – Hays County reported 1,081 new confirmed COVID-19 cases on Monday along with nine new hospitalizations and seven new hospital discharges.
The County has launched a website for residents to reported their at-home COVID-19 test results to the local health department. All information is confidential and no identifying information is collected, Hays County said. The reports will not be included in official case counts for Hays County, but will give health officials a better understanding of community spread.
4:30 p.m. – Travis County reported another death from COVID-19 on Monday along with 1,625 new confirmed cases, a new daily record, bringing the total to 138,751 cases and 1,222 deaths since the start of the pandemic. At least 131,826 people have recovered from the virus.
Travis County currently has 539 people hospitalized with COVID-19, with 122 in the ICU and 68 on ventilators.
4:20 p.m. – The City of Lockhart is postponing its second public open house for the Downtown Revitalization Project until further notice to protect the community from the spread of coronavirus.
"This decision was not taken lightly," the City said in a statement on Monday. "Our county is seeing an increased number of cases of COVID-19. While public meetings are hallmarks of our community, they are also opportunities for the virus to spread quickly among meeting participants and staff members.
"Even with the short delay, the impact on the Downtown Revitalization Project's progress is minimal. The project's second public open house's format, much like the first open house, is intended to be informal, interactive and allows the project team to meet and answer questions from attendees. The Downtown Revitalization Project focuses on proposed upgrades in utilities, drainage, streetscape, parking, hardscape, pedestrian access, and landscaping in the nine-block area around the Caldwell County Courthouse."
According to TEA protocols, Texas school staff who have tested positive for COVID-19 should return to work when:
If symptomatic, at least five days have passed since symptom onset, and fever-free, and other symptoms have improved.
For those with no symptoms, at least five days after the day they tested positive.
Fever-free means no fever for at least 24 hours without the use of fever-suppressing medications. Fever is a temperature of 100 degrees or higher.
1 p.m. – Here are the latest COVID-19 data, courtesy of the Texas Department of State Health Services (DSHS): 
TEXAS
41,968 new cases

7-day average: 40,674 per day

DOWN 3% from yesterday (falling three straight days)
UP 51% from a week ago
UP 1,118% from a month ago

6 new deaths
10,417 COVID-19 patients in Texas hospitals… most since Sept. 23 (back over 10,000 for the first time since Sept. 24)

Up 5.5% from yesterday
Up 48% from a week ago
Up 230% from a month ago

389 pediatric patients … up from last week, but down slightly from the past two days

36.48% positivity
LOCAL
3,996 new cases today for the 4-county Austin metro

7-day average: 3,581 per day

DOWN 3% from yesterday (falling three straight days)
UP 38% from a week ago
UP 1,433% from a month ago

564 COVID-19 patients in Austin area (TSA O) hospitals

Up 65 from yesterday
Up 87% from a week ago … more than triple two weeks ago
15% bed availability
13.6% COVID/capacity

Kids jumped over the weekend … 23 pediatrics today (as high as 27 yesterday) … up from 12 to 17 last week
Patients on ventilators also bounced up: 64 today, up from 23 to 30 last week

137 COVID-19 patients in Austin area (TSA O) ICUs

Up 8 from yesterday
Up 78% from a week ago (77) … more than double two weeks ago
10% bed availability
27.5% COVID/capacity
7 a.m. – Leander ISD announced Monday morning that students' buses will be delayed due to staffing shortages in the district's transportation department.
"We are making effort to get your students to school," the district said. "As everyone in our transportation office who is available will be driving a bus, please be patient and flexible as we work to run our routes."
The announcement from LISD comes one day after Hutto ISD said it would be canceling regular bus routes until further notice due to staff shortages.
OTHER COVID-19 HEADLINES: