Bitcoin's price has improved significantly overnight – jumping over fours percent in the past 24 hours.
Bitcoin's price is now around US$44,500 – its highest level in more than a month.
Bitcoin's latest climb is built upon a sharp jump on Friday, following the release of better-than-expected U.S. jobs data.
Bitcoin's recent rise comes after a tough three-month period for the crypto following inflationary concerns.
In November, Bitcoin hit a new all-time high of nearly US$69,000. However, since then, the world's largest crypto by market cap, has declined, dropping by over 40% in January.
While some see this latest hike as a sign of the bear market coming to an end, many are still not sold on the coin's longer-term recovery.
Last month, Bitcoin rose above the US$40,000 level twice but soon fell back, moving as low as to US$32,000.
Altcoin News
eme coin, Shiba Inu has exploded in the past 24 hours amidst Bitcoin's short-term recovery.
The dog-themed token has rocketed 14 percent in the past day.
According to Coin Desk, Bitcoin's increase resulted in nearly US$10 million in losses to liquidations for traders of SHIB-tracked futures products.
The other dog crypto, Dogecoin, also grew around eight percent overnight. The original memecoin has had a positive seven days rising from 14 cents to over 16 cents.
Winners & Losers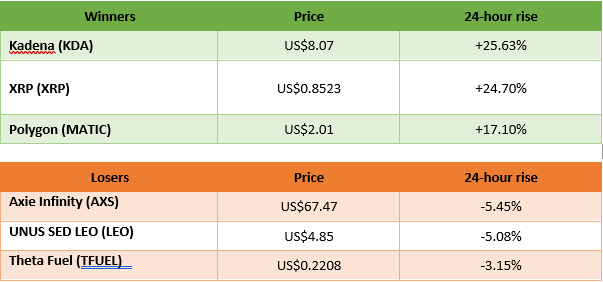 Image Source @ 2022 Kalkine Media®
Note: Growth from the 24 hours prior to 12:30pm AEDT
Source: Coinmarketcap.com, based on top 100 cryptos.