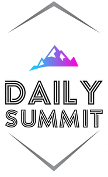 Daily Summit has launched a premier lifestyle brand for men and women healthy an active lifestyles.
Active lifestyle men and women shopping online have a new lifestyle destination. Rising lifestyle brand Daily Summit has recently launched its brand new website dailysummitshop.com to ensure a seamless shopping experience for customers all across the nation. The website is curating a wide range of products for both women and men with significant savings through bundling and flash deal opportunities.
"It's a great moment for us to announce the launch of our new official website https://dailysummitshop.com. We bring to you a vast and versatile range of lifestyle products for your active lifestyle and that too with amazing discounts. Our goal here is to improve your life and daily activities with the best lifestyle products that will enable you to reach your daily summits every day. Count on us as your go-to active lifestyle online shopping portal for everything you need to stay vibrant, active and healthy", stated a leading spokesperson from Daily Summit.
The new Daily Summit website opens up with a panoramic homepage graced by a beautiful banner that reminds us of the summits that we have to touch every day, both in our personal and professional life. The menu bar is conveniently located just above the banner and there are also quick links at the bottom of the page for easy access to different pages of the website. The search bar and shopping cart are located on top right side of the homepage for prompt search and quick visibility of items stored in cart – from the homepage only.
Per the statements of the spokesperson, Daily Summit features a versatile range of products in various categories, ranging from outdoor gear to health to electronics and so on. There are separate sections for men, women and electronics for easy search and find of products, as per the specific needs of each customer.
"We house a vast and diverse inventory, bustling with almost all the needed products to lead an active, fit and healthy lifestyle. From active clothing, to athletic training, to products that improve your daily living – our team imagines new products for you to reach your daily summit. There are also sports goodies such as indoor cycle trainer, jogger shorts, tennis pro trainer, golf pro trainer and many more."
Daily Summit stressed on offering only the most premium quality products in the market. The rising lifestyle brand orders each product in bulk which cuts down on the buying price and the savings is further passed on to the shoppers. According to the statements of the spokesperson, their featured products come at 50 percent off or more of other leading retailers.
"We are extremely particular about the quality of products featured on our website. At Daily Summit, you will always find a curated list of the most premium products in the market and that too with the promise of incredible deals and savings. It's going to be a great shopping experience with us."
For more information, please visit https://dailysummitshop.com/
Media Contact
Company Name: Daily Summit
Contact Person: Kevin Young
Email: Send Email
Country: United States
Website: https://dailysummitshop.com/