When Meta Platforms (NASDAQ:FB), formerly Facebook, first "came out" as a metaverse play in the fourth quarter of 2021, the Decentraland (CCC:MANA-USD) token price skyrocketed. But since then, MANA-USD has tumbled. It's now down to below $3 ($2.91 as of Jan. 7), from a peak of $5.9 on Nov. 25.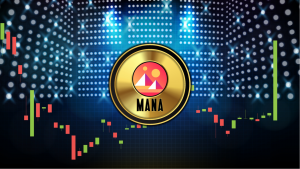 Source: moxumbic / Shutterstock.com
As a result, MANA-USD is now down 50% from its peak. In other words, the hype period from the interest in metaverse cryptos and stocks is over. In fact, up until the end of Oct. 2021, Decentraland crypto prices were typically below $1.
In fact, this might imply that there could be further to fall if the Decentraland prices keep moving towards the former price levels. However, I suspect that given the ongoing interest in metaverse plays, albeit perhaps not at the level it was at during the fall, MANA-USD could be near a trough.
Where Things Stand With Decentraland
Decentraland is an Ethereum (CCC:ETH-USD) based crypto video game where players can buy and sell land and related parcels. They can also customize the land and parcels. These land plots are represented by non-fungible tokens (NFTs) and related assets.
And some of the prices of these plots are skyrocketing. Recently a "virtual real estate company" Metaverse Group bought an "estate" (multiple pieces of land connected together) for about $2.4 million. This is considered the largest sale of virtual land in the Decentraland's history.
The sale was in Decentraland's Fashion Street Estate. The company plans to use the digital space to host high-end fashion shows with real world brands. This record breaking sale follows on the heels of a $2.3 million land sale in play-to-earn metaverse game Axie Infinity.
The sale of high-priced land-based NFTs is becoming a common occurrence. For example, Rolling Stone magazine reported that "Someone Just Spent $450,000 for 'Land' Next to Snoop Dogg's NFT House."
In short, crypto fans are keen to buy and monetize metaverse land plots.
Moreover, there is a good deal of pushback against "centralized" firms like Meta/Facebook in the metaverse space. As one article put it: "Many crypto enthusiasts believe that the metaverse should be fully open and interoperable, letting users utilize their owned NFT assets across spaces, games, and platforms."
Where This Leaves MANA-USD's Future
However, as I pointed out earlier, some of the shine has come off of the price for MANA-USD. Maybe people are worried that things have gotten out of hand with these metaverse NFT prices.
For example, if the real economy were ever to falter, or slow down due to inflationary effects, that will have a knock-on effect. Metaverse NFT prices would not be able to withstand selling pressure.
We know from previous crises that once asset prices dive due to fears of a recession, all kinds of assets receive selling pressure. That will include NFT prices as well as the price of Decentraland.
That could be part of the reason that MANA-USD has been faltering lately. It certainly didn't help that the December job growth figures out on Friday, Jan. 7, were not near as robust as forecast by experts. If this keeps up, then fears could grow that economic growth is faltering. That wouldn't be good for Decentraland.
What To Do Now With
Decentraland
At this point, it makes sense for long-term buyers of crypto assets to average down. If you already own MANA-USD, your best move is to take advantage of these lower prices and lower your average cost.
So, if you don't already own a position, it might make sense to wait to see if this selling pressure continues before moving in. The reason is there could be more sour economic stats that could push stocks and cryptos lower. That will provide another good entry point for buyers of Decentraland.
On the date of publication, Mark R. Hake did not hold any position (either directly or indirectly) in the securities mentioned in this article. The opinions expressed in this article are those of the writer, subject to the InvestorPlace.com Publishing Guidelines.
Mark Hake writes about personal finance on mrhake.medium.com and runs the Total Yield Value Guide which you can review here.