9 min ago
Russia well behind its own schedule for Ukraine invasion
From CNN's Nick Paton Walsh in Odessa
A western official told CNN there was a "failure on the first day to destroy Ukraine's air defenses" by Russia and that it was "well behind the schedule it set," for the invasion. Russia has about half the forces it massed on Ukraine's borders "forward and operating in Ukraine," the source added.
Earlier on Monday a senior US defense official said that it is their assessment Russia has committed nearly 75% of its military power that it had arrayed around Ukraine ahead of the invasion.
The official said they were concerned with the "risks that come with a lack of Russian progress" especially the "use of rockets today and tube artillery — in Kyiv and Kharkiv — which risks being far more indiscriminate."
The official said while there had been "some progress in the south" — with forces that come out of Crimea having some gains — "in other areas we have not seen a lot of progress in maneuver."
The official declined to give a figure for Russian casualties but noted that in the first days Russia's defense ministry denied having any, but later had to admit to some. They said this was "what we would assess to be a significant number of casualties. Their ability to hide that is over. The impact of this operation will be seen and felt back in Russia itself."
4 min ago
Missile strike in Kyiv region destroys dormitory and residential buildings, Ukrainian official says
From Katharina Krebs
A missile strike earlier today on Vasylkiv, Bila Tserkva and Kalinovka in the Kyiv region destroyed a five-story dormitory and two five-story residential buildings, Ukraine's Ministry of Interior said.
Three state emergency service units are on their way to provide assistance to the dormitory that was hit in Bila Tserkva.
Emergency service units are not en route to the two five-story residential buildings in Vasylkiv and Kalinovka because the shelling is ongoing.
5 min ago
Putin placing Russian nuclear weapons on high alert is "as unnecessary as it is escalatory," Pentagon says
From CNN's Ellie Kaufman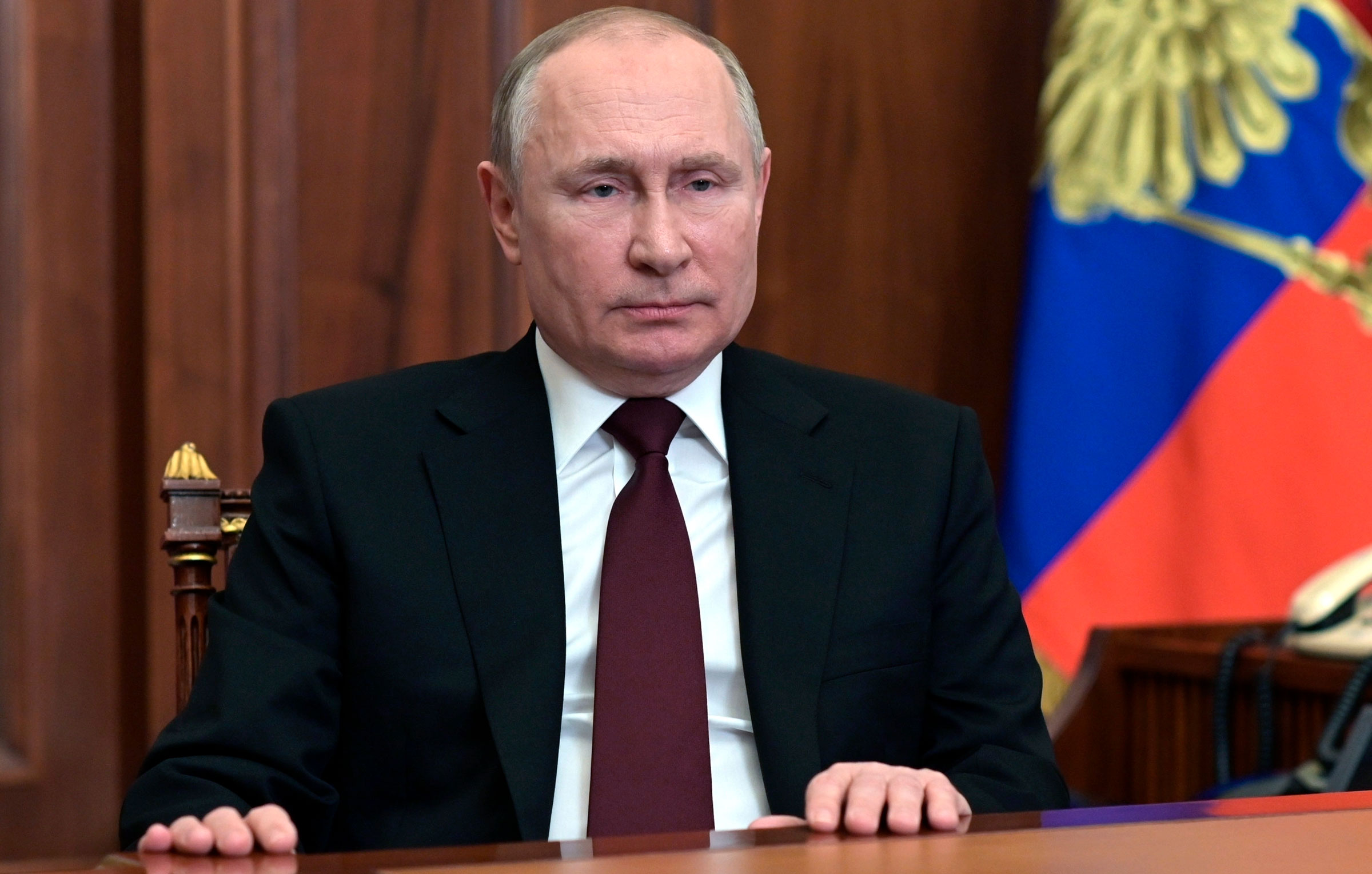 After Russian President Vladimir Putin announced that Russia's deterrence forces — including its nuclear weapons — have been placed on high alert, the Pentagon responded by calling the announcement "as unnecessary as it is escalatory." 
The response was issued by Pentagon spokesperson John Kirby during a briefing on Monday.
Kirby went on to note that the Pentagon is "reviewing and analyzing" Putin's announcement.
Secretary of Defense Lloyd Austin is "comfortable with the strategic deterrent posture of the United States, and our ability to defend our homeland and our partners," Kirby also said.
8 min ago
Pentagon: Russian forces are trying to move closer to Kyiv but are still outside city center
From CNN's Ellie Kaufman
Pentagon spokesperson John Kirby said the Russian forces are trying to move closer to Ukraine's capital of Kyiv, but still are outside of the city center.
"But clearly we continue to see Russian forces move on — or try to move closer to so they can move on Kyiv from the ground," Kirby during a briefing at the Pentagon on Monday. "We still assess that they're outside the city center, and but, what we know clearly, that they have intentions with respect to Kyiv."
Ukrainians are "resisting quite effectively around Kyiv," Kirby added. "They've made it a tough slog for the Russians to move further south."
Kirby could not say specifically that a Russian convoy that has been seen on satellite imagery is headed for Kyiv, but he said "it clearly appears to, just anecdotally, as just a piece of their desire to continue to move on the capital."
23 min ago
Norway will provide military equipment to Ukraine 
From CNN's Niamh Kennedy in London
Norway will provide $226 million in humanitarian assistance and military equipment to Ukraine.
The Norwegian government announced the support measures in a statement Monday, saying that this "extraordinary allocation to Ukraine is intended to enhance the efforts of humanitarian actors to help the most vulnerable groups, including children."
Norwegian Prime Minister Jonas Gahr Støre condemned Russia's "military attacks in Ukraine," which he said were "causing widespread loss of life and suffering in the civilian population, destroying vital infrastructure and forcing people to flee their homes."
As far as military aid is concerned, Norway will send "military equipment such as helmets and bulletproof vests to Ukraine." The equipment was all requested by Ukraine and can be sent quickly, Norwegian Defense Minister Roger Enoksen added. 
He highlighted the plight of the Ukrainian people "fighting for survival against a superior military force."
"Russia's attack on Ukraine is threatening European security in a way we have not experienced since the second world war. It poses a threat to the norms, values and principles on which our democratic societies are founded," Enoksen continued.
Norway is joining the European Union to impose "harsh sanctions against Russia," according to the statement, adding that further sanctions announced Monday "will also target Belarus." 
Norwegian Finance Minister Trygve Slagsvold Vedum is also set to ask the Norway's sovereign wealth fund, the Government Pension Fund Global, to "freeze all its investments in Russia immediately" and divest from Russia. 
Norway's final move is closing its airspace to Russian airlines, joining a host of other European airlines in doing so. 
46 min ago
UK Prime Minister Boris Johnson urges world leaders to keep up the pressure on Putin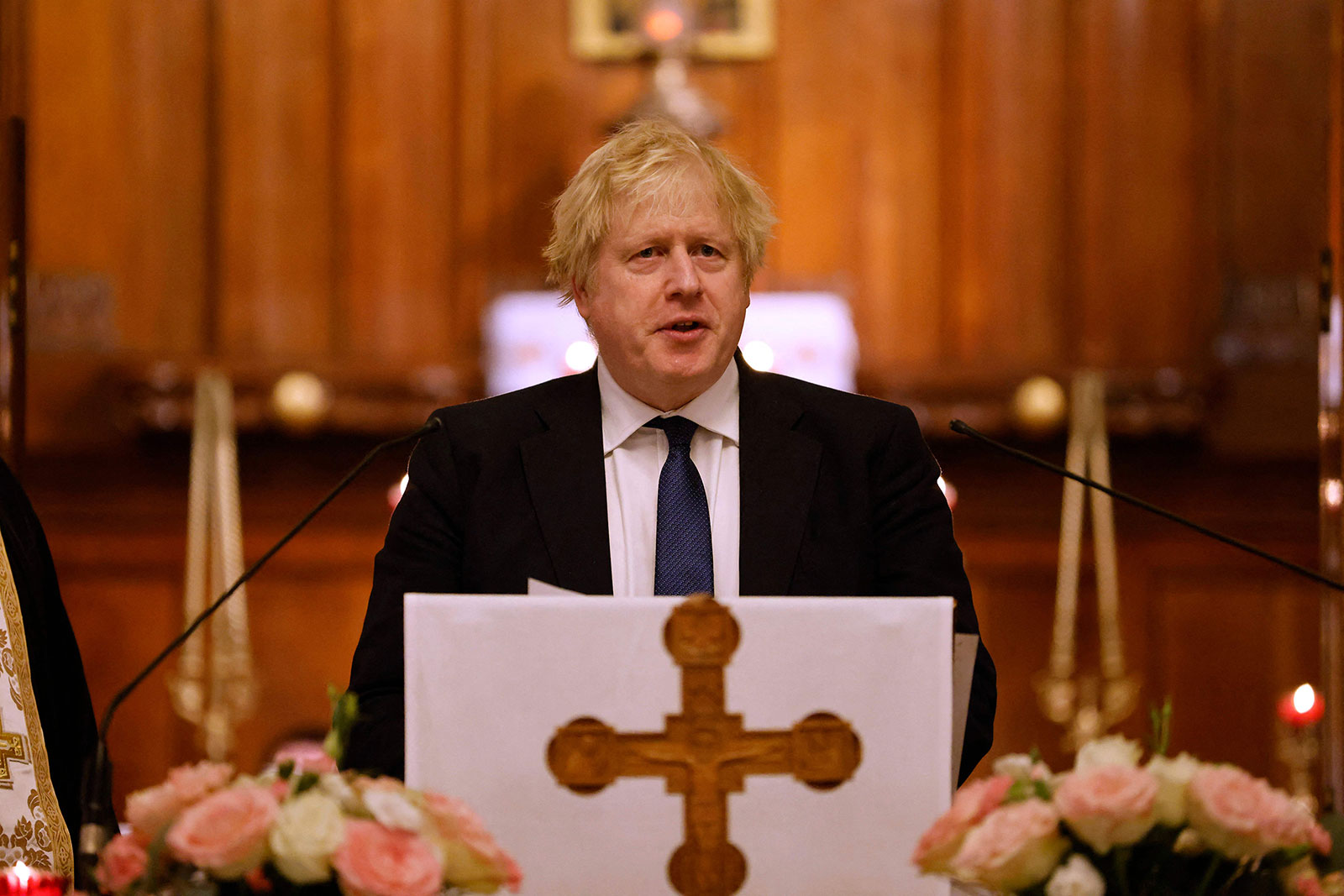 British Prime Minister Boris Johnson urged G7 and other world leaders to continue to provide Ukraine with defensive weapons and to keep up the pressure on Putin's regime.
Following a call with world leaders Monday, a Downing St. spokesperson said the leaders all agreed that Ukraine's "valiant resistance" to Russian troops is "truly inspirational."
Johnson also "underlined the need for an international response to the emerging humanitarian crisis, including through supporting Ukraine's neighbours to deal with large numbers of Ukrainians escaping violence in the country," according to the statement.
The prime minister stressed the need to keep hitting Russia with trade restrictions and sanctions including SWIFT, a messaging service that connects financial institutions around the world.
The leaders agreed to "pursue every avenue to ensure that Putin fails in his ambitions," the statement said.
34 min ago
Russian military convoy has advanced from Ivankiv to outskirts of Kyiv, satellite images show
From CNN's Paul P. Murphy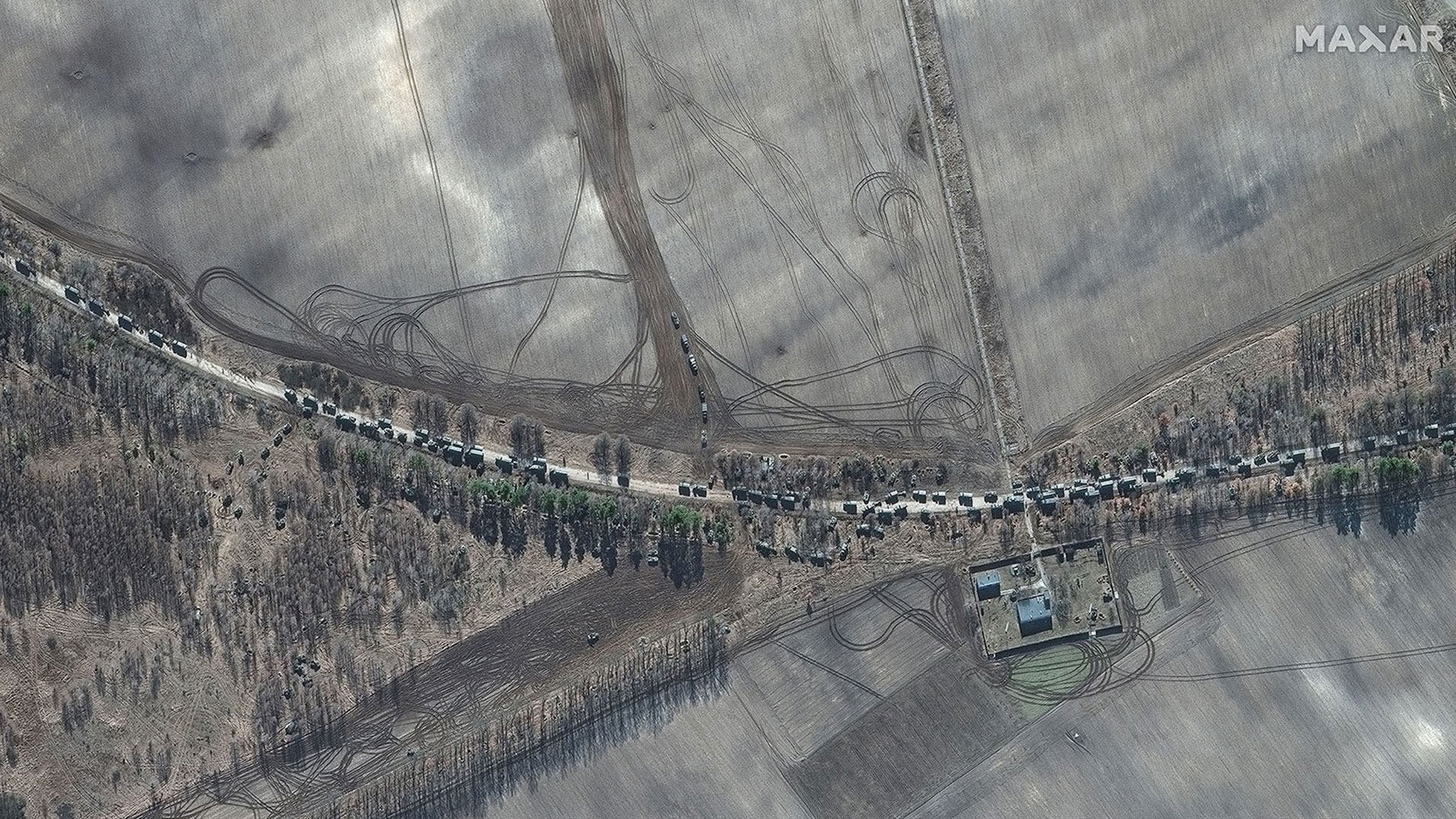 A Russian military convoy that was outside of Ivankiv, Ukraine, on Sunday has since made it to the outskirts of Kyiv, satellite images show.
On Sunday, the convoy was roughly 40 miles northwest of the Ukrainian capital, according to images provided by Maxar Technologies.
Maxar said that roughly 17 miles of roadway is chocked full of the convoy, which consists of armored vehicles, tanks, towed artillery and other logistical vehicles.  
The private US company said the convoy was located on the T-1011 highway at Antonov air base around 11:11 a.m local time.
Antonov is roughly 17 miles from the center of the Ukrainian capital.
The Antonov air base was the site of intense fighting on Thursday. It's also the site where the largest plane in the world — the Antonov AN-225 Mriya — was kept. The Ukrainian government has said that Russian military destroyed the plane.
52 min ago
Russia claims to have hit 1,146 military installations in Ukraine
From CNN's Nathan Hodge in Moscow and Alla Eshchenko
The Russian military claimed Monday that its armed forces have hit 1,146 Ukrainian military installations since the beginning of the "special operation," Maj. Gen. Igor Konashenkov, the spokesperson for Russian Ministry of Defense, said in a statement.
Among the targets were "31 command posts and communication centers, 81 S-300, Buk M-1 and Osa anti-aircraft missile systems, as well as 75 radar stations. Operationally, tactical aviation of the Russian Aerospace Forces hit six columns of armored vehicles of the Ukrainian armed forces," he said.
Additionally, "311 tanks and other armored combat vehicles, 42 aircraft and helicopters (including on the ground), 51 multiple launch rocket systems, 147 field artillery pieces and mortars, 263 units of special military vehicles were destroyed," Konashenkov added.
Konashenkov also said troops have advanced further in both pro-Moscow regions in eastern Ukraine.
"The grouping of troops of the Luhansk People's Republic during the day continued to conduct offensive operations in the direction of the settlement of Kremennoye, moving forward for another 3 kilometers. In the past day, the units of the Armed Forces of the Donetsk People's Republic advanced 16 kilometers and captured the settlement of Zamozhnoye," Konashenkov said.
Over the past 24 hours, another 110 Ukrainian servicemen have voluntarily laid down their arms, the Russian Ministry of Defense spokesman concluded. 
CNN could not verify that statement, and the Russian military has made incorrect claims regarding its military operations in the past. 
59 min ago
France is moving its embassy from Kyiv to Lviv, foreign minister says
From CNN's Simon Bouvier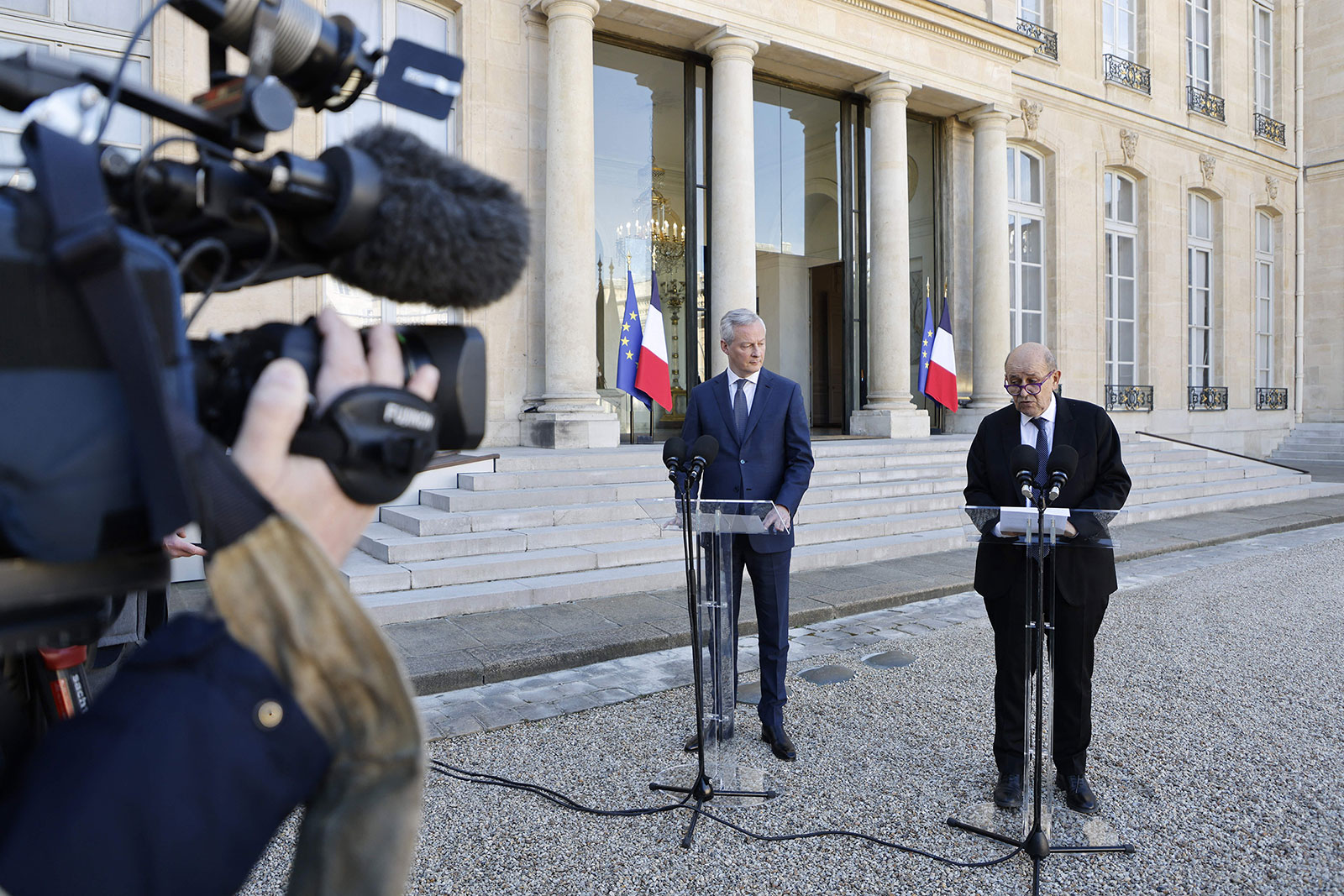 France is moving its embassy from Kyiv to Lviv, the country's Foreign Minister Jean-Yves Le Drian announced Monday.
"We have decided at the request of the President of the Republic to transfer our embassy, which until now has been in Kiev, and because of the risks and the threats on the Ukrainian capital, the embassy is transferred to Lviv towards the west. The ambassador remains in Ukraine to support our nationals and also the Ukrainian authorities," Le Drian told CNN affiliate BFMTV. 
"Threats were important enough to relocate," the French foreign minister added.
After Russian President Vladimir Putin put deterrence forces, including Russian nuclear forces, on alert, Le Drian said, "It's a useless, disproportionate threat."
"It's a threat that he had already made on Feb. 24 when he announced the first operations. It's a threat that he has just renewed," he said. "It's a threat of escalation which makes no sense and that goes against the commitments made very publicly by Russia to measure major strategic risks at the beginning of 2022."