10 hr 38 min ago
Russia says it will "drastically reduce" military assault on Kyiv and Chernihiv
From Daria Markina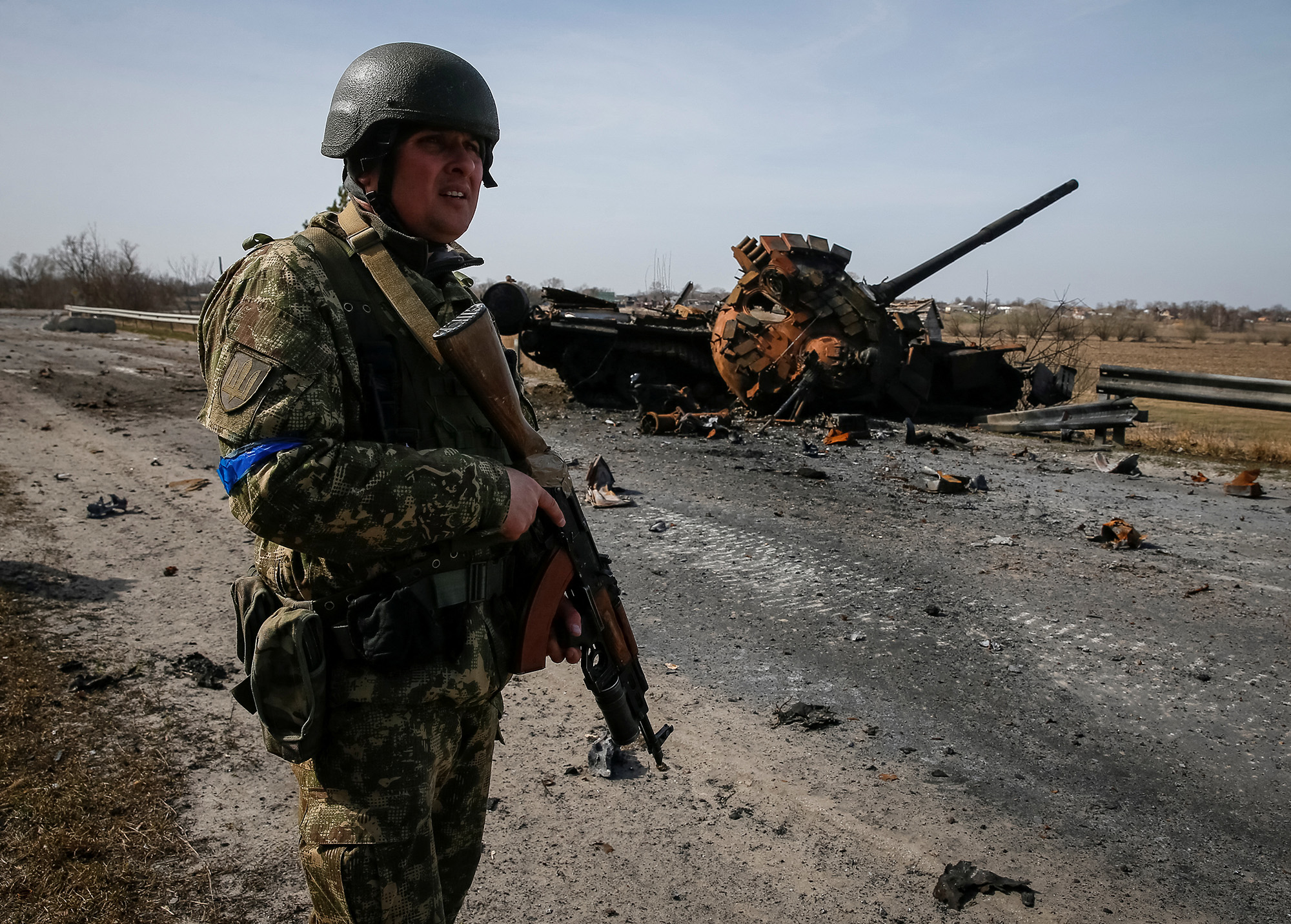 Moscow says it will "drastically reduce military activity" on two fronts — Kyiv and Chernihiv — according to the Russian Ministry of Defense Telegram channel.
Russian Deputy Defense Minister Alexander Fomin confirmed "to radically, at times, reduce military activity," according to state media RIA.
The move follows talks between Russian and Ukrainian delegations in Istanbul on Tuesday.  
"Due to the fact that negotiations on the preparation of an agreement on the neutrality and non-nuclear status of Ukraine, as well as on the provision of security guarantees to Ukraine, are moving into practice, taking into account the principles discussed during today's meeting, by the Ministry of Defense of the Russian Federation in order to increase mutual trust and create the necessary conditions for further negotiations and achieving the ultimate goal of agreeing on the signing of the above agreement, a decision was made to radically, at times, reduce military activity in the Kiev and Chernigov direction," Fomin told reporters.
The General Staff of the Armed Forces of Ukraine earlier claimed "certain units" of Russia's military are withdrawing from battlefronts in the capital, Kyiv, and from the northern city of Chernihiv. 
"The Russian enemy did not meet the goal of its offensive operation," it said in an official Facebook update Tuesday.
However, it warned of a "high risk" of Russian troops attacking military and civilian infrastructure. The Russian military, it claimed, is struggling to reinforce and rotate in new soldiers, due to the "refusal of personnel to participate in the so-called special operation," and are "not able to staff even one battalion-tactical group."
In the fifth week of the Russian invasion, the "heroic" Ukrainian resistance is "conducting a defence operation in the eastern, southeastern and northeastern directions, restrains the enemy in all directions, in some directions – displaces the enemy," it said.
15 hr 31 min ago
Zelensky calls for tighter sanctions against Russia as Mariupol remains under siege
From CNN's Benjamin Brown in London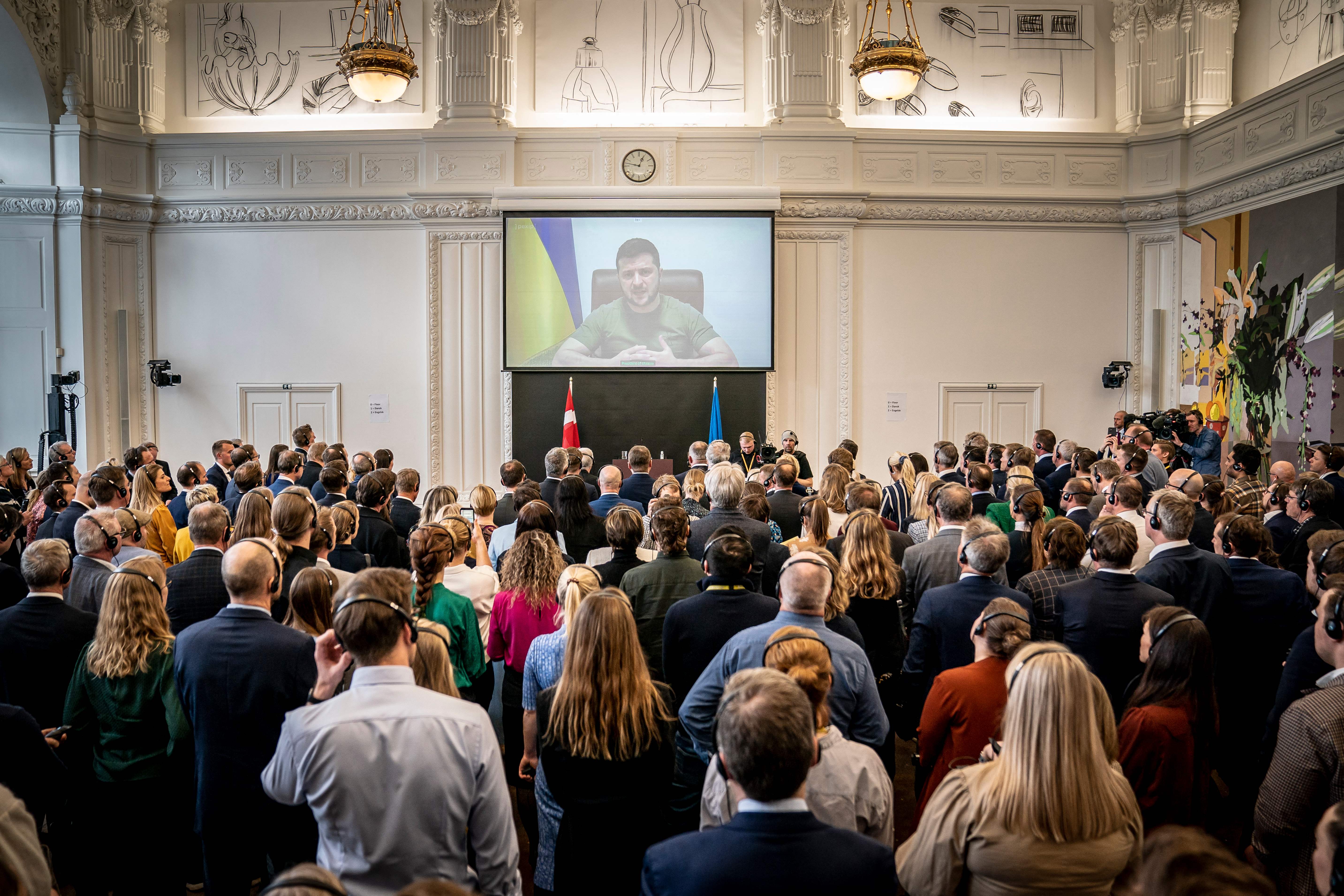 Ukraine's President Volodymyr Zelensky has called for even tighter sanctions against Russia and warned that almost all of the besieged city of Mariupol has been destroyed in an address to the Danish Parliament on Tuesday.
"We ask you and the whole democratic community in the world: We need to step up sanctions against Russia. We must give up Russian oil. No trade with the Russian Federation. Close ports to Russian ships. And this must be a policy of solidarity in the European Union among all member states," he said. 
More than 100,000 people are still trapped in Mariupol and are forced to "have to melt snow to drink water," he added.
Russia, he warned, wants to "ensure nothing remains of Ukraine but ruins and refugees." 
Zelensky accused Russian forces of forcibly deporting people, as well as committing rape and looting.
He claimed the whereabouts of more than 2,000 Ukrainian children is unknown and said they have been abducted and taken into Russia.
On Saturday, Ukraine's Deputy Prime Minister Iryna Vereshchuk said the Ukrainian government estimated the number of Ukrainians forcibly deported to Russia since the invasion was nearly 40,000.
Some background: The port city of Mariupol has reported thousands of deaths as a result of Russia's constant bombardment. Before the invasion on February 24, the city was home to more than 400,000 people. Around 160,000 people remain, living without water, electricity and heat, said the mayor Vadym Boichenko.
15 hr 56 min ago
Kremlin says dialogue between Russia and US still necessary
From CNN's Lindsay Isaac
Dialogue between Russia and the US is still needed, despite recent statements from US President Joe Biden that "damage the relations," said Kremlin spokesperson Dmitry Peskov on Tuesday.
"Personal insults cannot but leave their negative mark on relations between heads of state," Peskov said.
"Nevertheless, dialogue between Russia and the United States is necessary in any case, not only in the interests of our the two countries but also in the interests of the whole world," he added.
"One way or another, sooner or later, [Russia and the US] will have to talk about issues of strategic stability, security, and other issues that only we can discuss," he said.
On Sunday Biden said that Russian President Vladimir Putin "cannot remain in power," but on Monday he told CNN's Kaitlan Collins he was "talking to Russian people" with the line, rather than announcing a change in policy.
15 hr 50 min ago
Kremlin denies it is forcibly disappearing civilians despite CNN and UN reports
From CNN's Eliza Mackintosh and Lindsay Isaac
Kremlin spokesperson Dmitry Peskov said he is not aware of cases of missing Ukrainian journalists and activists, or of reports of arrested officials in Russian-held territories of Ukraine.
Peskov's comments come after CNN reported that local Ukrainian officials had been arrested, and journalists and civil society members had disappeared and are still missing. 
Commenting on CNN's reporting, Peskov said the Kremlin is unaware of such cases but said they needed to be examined carefully individually.
"It is very important to consider each specific case, each name and surname," Peskov told CNN. "Nobody contacted us [about it] and we do not have such information," he added.
In addition to CNN reporting, the United Nations Human Rights Monitoring Mission in Ukraine (HRMMU) said that dozens of Ukrainians, including local officials, activists and journalists, are being arbitrarily detained and subjected to forced disappearances.
At least 45 cases of civilian detentions have been recorded by the HRMMU since the war began on February 24, according to a HRMMU spokesperson.
On Monday the mission said it had so far documented 24 cases of conflict-related detentions of local officials in Russian-occupied regions, 13 of whom have subsequently been released. 
Its monitors have also recorded the disappearances of 21 journalists, civil society activists, protesters and civilians, who "vocally opposed the invasion in Kyiv, Kherson, Luhansk and Zaporizhzhia regions."
Some of those who have disappeared were taken during protests against the Russian invasion or for openly expressing their support for Ukraine.
A handful have subsequently been released, the spokesperson said, although exact numbers are still being verified by the mission. 
"Information regarding the number of released individuals is pending verification. HRMMU has received many complaints about missing civilian persons, which are also pending corroboration," said the spokesperson.
"There are grounds to believe that some of them may have also been detained, and possibly subjected to enforced disappearance," they added. 
Families are often denied any information about the fate of those being held. Many are often too terrified to speak out about the disappearance of their relatives, for fear that it could trigger a backlash against themselves or their loved ones.
16 hr 5 min ago
UN nuclear watchdog chief is in Ukraine for urgent talks on safety of nuclear facilities
From CNN's Niamh Kennedy and Stephanie Halasz in London
Rafael Mariano Grossi, the chief of the United Nations' nuclear watchdog, is in Ukraine for urgent talks with the Ukrainian government about the safety of the country's nuclear facilities. 
In a statement Tuesday, the International Atomic Energy Agency (IAEA) said the talks with senior government officials will center on the agency's plans to deliver "urgent technical assistance to ensure the safety and security of the country's nuclear facilities and help avert the risk of an accident that could endanger people and the environment." 
Grossi posted a photo of himself on Twitter standing in front of an official UN vehicle on Tuesday, saying he had "just crossed the border into Ukraine to start the IAEA's mission to ensure the safety and security of the country's nuclear facilities." 
In the statement, Grossi said that "the military conflict is putting Ukraine's nuclear power plants and other facilities with radioactive material in unprecedented danger."  
"Ukraine has requested our assistance for safety and security. We will now start delivering it. Ukraine has one of Europe's largest nuclear power programmes. The IAEA's presence, where needed to ensure safety and security, is of paramount importance. We are ready to provide the necessary support now," he continued. 
Grossi, who is set to visit one of the country's power plants during his trip, warned that "there have already been several close calls" when it comes to the country's nuclear facilities. 
"We can't afford to lose any more time," he continued, adding that the IAEA's expertise is needed urgently to prevent a nuclear accident taking place. 
Russian forces have occupied Ukraine's largest nuclear power plant, Zaporizhzhia, since March 4, and the site of the infamous 1986 accident, the Chernobyl nuclear power plant, since February 24. 
The watchdog has drawn up "concrete and detailed plans for safety and security assistance" to Ukraine's nuclear sites, which include 15 nuclear power reactors at four plants as well as the Chernobyl NPP, according to the statement. 
Eight of the country's 15 reactors continue to operate, "including two at the Russian-controlled Zaporizhzhya NPP, three at Rivne, one at Khmelnytskyy, and two at South Ukraine," the IAEA said in its latest update posted Monday. The other reactors remain closed for regular maintenance, they added. 
16 hr 3 min ago
Explosion heard during CNN interview with mayor of Chernihiv
From CNN's Jack Guy
An explosion could be heard during a CNN interview with Vladyslav Atroshenko, the mayor of Chernihiv, on Tuesday.
Atroshenko described how his city, which is about 90 miles northeast of Kyiv, had been under constant attack since the Russian invasion began.
He spoke to CNN from in front of a bombed-out cinema, which he said was struck by a missile.
"We can say with confidence that the Russian army is waging this war not against the armed forces of Ukraine, but against civilians," Atroshenko said.
Chernihiv has been under sustained attack from air strikes and mortar shelling, he said, adding that the Russians are not using high-precision weapons.
Some 300-400 people are estimated to have been killed in the city, but the exact figure is unclear, said the mayor. CNN cannot immediately verify any death toll.
The vast majority of the dead are civilians, Atroshenko said.
About 100,000-110,000 of the city's 290,000 residents remain in Chernihiv, said the mayor, who said the city would continue to hold off the Russian armed forces.
"We shall not surrender," he said as an explosion could be heard in the background. The noise was from a Russian munition, Atroshenko said.
"Absolutely nowhere is safe in the city now," he said. "The enemy is striking everywhere."
Watch the interview:
16 hr 21 min ago
Ukraine conflict will cause a "significant change in the international order," says UAE advisor
From CNN's Adam Pourahmadi in Dubai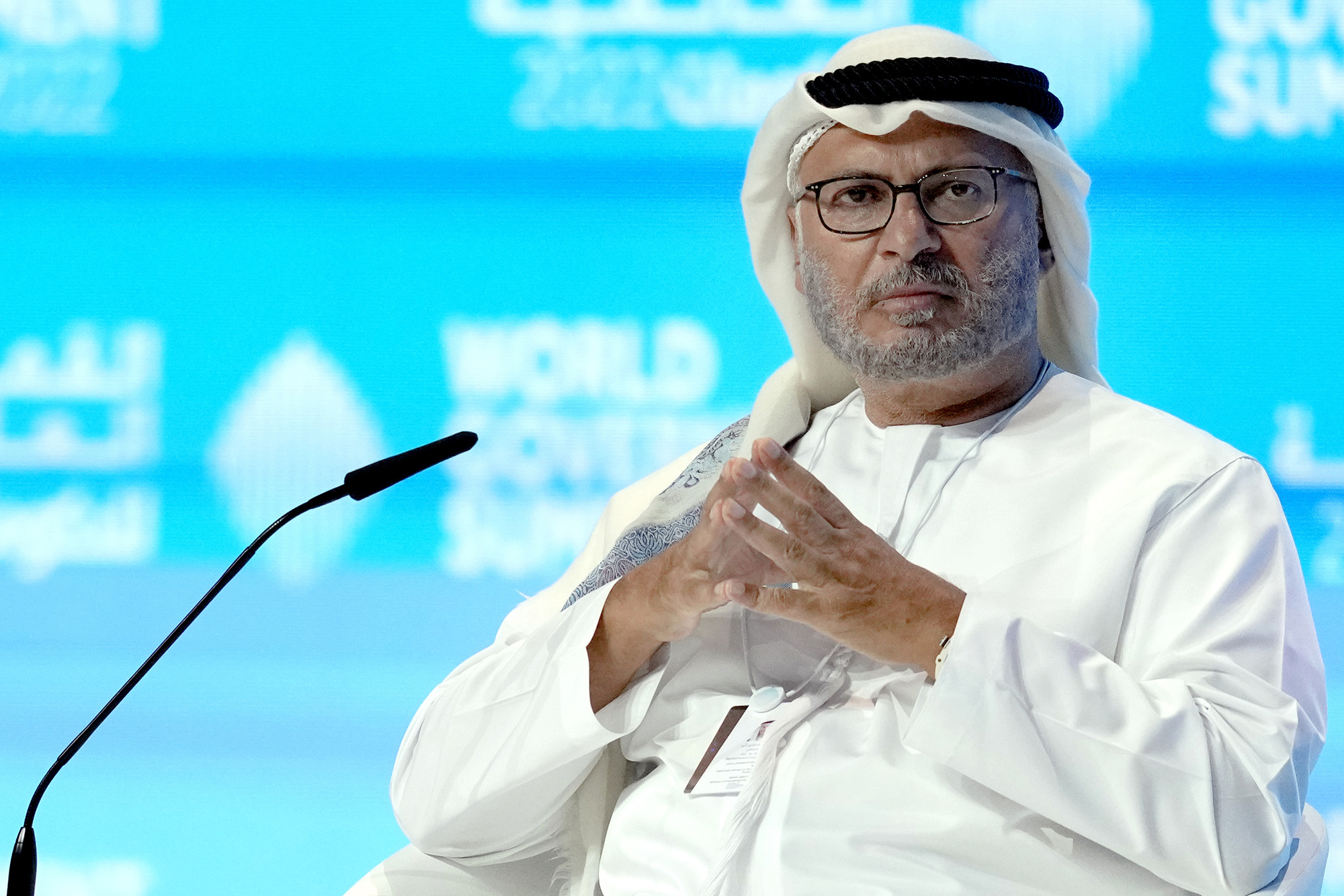 The conflict in Ukraine is going to cause a "significant change in the international order" and will have "prolonged" and "deep" repercussions, according to Anwar Gargash, the United Arab Emirates diplomatic adviser to the president.
"But I think we do really need to find a political solution. And it starts with a ceasefire and a political solution ASAP. We need to do that because the danger of horizontal or vertical escalation is real," Gargash told CNN on Tuesday.
The UAE has not condemned Russia's invasion of Ukraine.
Speaking at the World Government Summit in Dubai, Gargash said that "the [Middle East] region … is witnessing the sort of upper structure changing, but it has to catch up and it has to catch up by emphasizing, in my opinion, non-political issues."
Gargash, who previously served as the Emirati Minister of State for Foreign Affairs, spoke at the landmark regional meeting in Israel's Negev desert, where top diplomats from the United Arab Emirates, Bahrain, Morocco, Egypt, Israel and the United States met to discuss security issues.
At the meeting on Monday, Israel's Foreign Minister Yair Lapid spoke about the effect the new regional alliance will have on deterring Iran, but Gargash said the "Middle East is not really only about Iran … and Israel."
"Our whole intention is to find a way of functionally working with Iran … our whole intention is that there is an agenda of stability or prosperity in the region that includes Iran and others."
Abu Dhabi has worked to improve ties with its regional neighbors, including Turkey and Iran, and normalized relations with Israel in 2020.
"We need to turn the page and start a new page. And that new page is basically reaching out to friends of course, but adversaries also. And to make sure that you know, we rebuild these bridges, we were not going to agree with everything they want to do," Gargash added.
16 hr 27 min ago
Negotiators discussed security guarantees and potential ceasefire, Ukrainian presidential adviser says
Fom CNN's Olga Voitovych and Nathan Hodge in Kyiv
Ukrainian presidential adviser Mykhailo Podolyak on Tuesday outlined some of the issues that were discussed in talks between Russia and Ukraine in Istanbul on Tuesday — which have now ended — saying there were "intensive consultations" on several issues.
"The key one is the agreement on international security guarantees for Ukraine. Only with this agreement we can end the war as Ukraine needs," Podolyak said, referring to a longstanding position of the Ukrainian government that Ukraine would adopt neutral status only if provided binding security guarantees. 
The second set of issues, Podolyak added, "is the issue of a ceasefire, so that all humanitarian problems can be resolved."
Ukrainian officials have said there is a major humanitarian crisis in cities that have been under heavy Russian bombardment, including the besieged port of Mariupol.
Podolyak also alluded to videos and other evidence that have surfaced of the apparent mistreatment of prisoners and other potential violations of the laws of armed conflict.
"I also would like to emphasize that today we have another problem that is growing, the problem of escalation of war, escalation of hatred, escalation of violations of customs and rules of war, not only on the battlefield," Podolyak said.
"Sometimes calls on air from both sides to destroy one or another nation. All this leads to conflicts, to videos of violating the Geneva Convention regarding the prisoners of war," he added, saying that the Ukrainian military is committed to making sure that it does not happen again, and "that it has legal consequences for people who violate the rules of war." 
16 hr 33 min ago
Evacuations in Luhansk region are happening despite corridor failure, governor says
From CNN's Andrew Carey, Julia Presniakova and Olga Voitovych in Lviv
Local officials are working to evacuate people living in towns suffering heavy Russian shelling despite the failure of fighting parties to formally agree a humanitarian corridor, the regional governor of Luhansk in Ukraine's far east said.
Thirty people had been moved out of Rubizhne on Tuesday morning, as well as people from other nearby towns, Gov. Serhii Haidai said. 
Photos posted on the governor's Telegram channel showed people gathered round a small bus ready to board, with their belongings packed in bags. 
The governor said people were being taken to the town of Sloviansk where they could get a train to take them to the west of Ukraine. 
Earlier, Haidai reported that about 20 residential buildings had been damaged by recent Russian artillery fire. Each destroyed building could mean anything from 30 to 100 homeless families, he added. 
One person had been killed by shelling in Nyzhnie, while rescuers had managed to pull 20 people alive from the rubble of a building strike in Severodonetsk, the governor said.