33 min ago
Analysis: A long war of attrition in Ukraine will have huge global consequences
Analysis from CNN's Stephen Collinson
The Russian invasion of Ukraine is transforming into a grinding war of attrition that portends months of more human carnage and will transmit shockwaves from Vladimir Putin's onslaught to millions of people across the globe.
Rapid reassessments of the duration, character and costs of the war are being prompted by Russia's strategic shift away from a bogged down attempt to take Kyiv and topple the government to a refocusing of military force in southern and eastern areas.
In the early days of the war six weeks ago, it seemed possible a Russian blitzkrieg could quickly storm the country and seize the capital. But fierce Ukrainian resistance, backed by Western arms, and heavy Russian casualties has led to a change of plan by Moscow.
Yet the redeployment, which allowed a horrific trail of atrocities to be unveiled to the world, doesn't mean a vicious war that Putin cannot afford to lose is anywhere near over. In fact, it ensures that economic, political and international forces unleashed by the conflict will last for months and exact a deeper toll.
And the consequences of Russia's ruthless mission will not be contained in Europe.
Read the full analysis: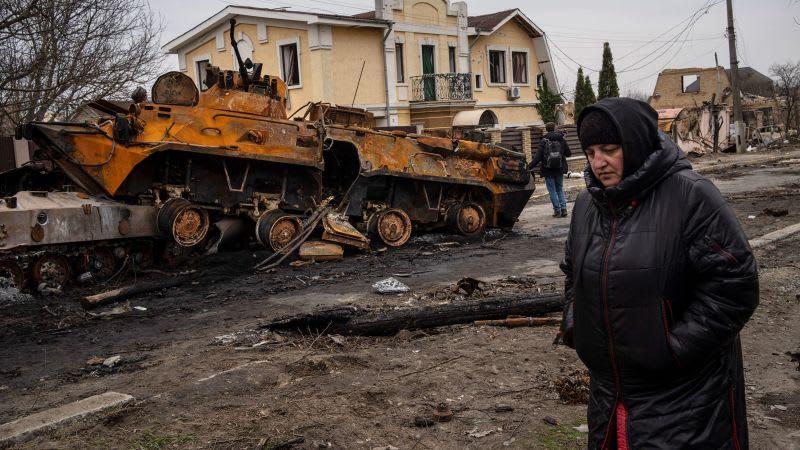 54 min ago
It's 7 a.m. in Kyiv. Here's what you need to know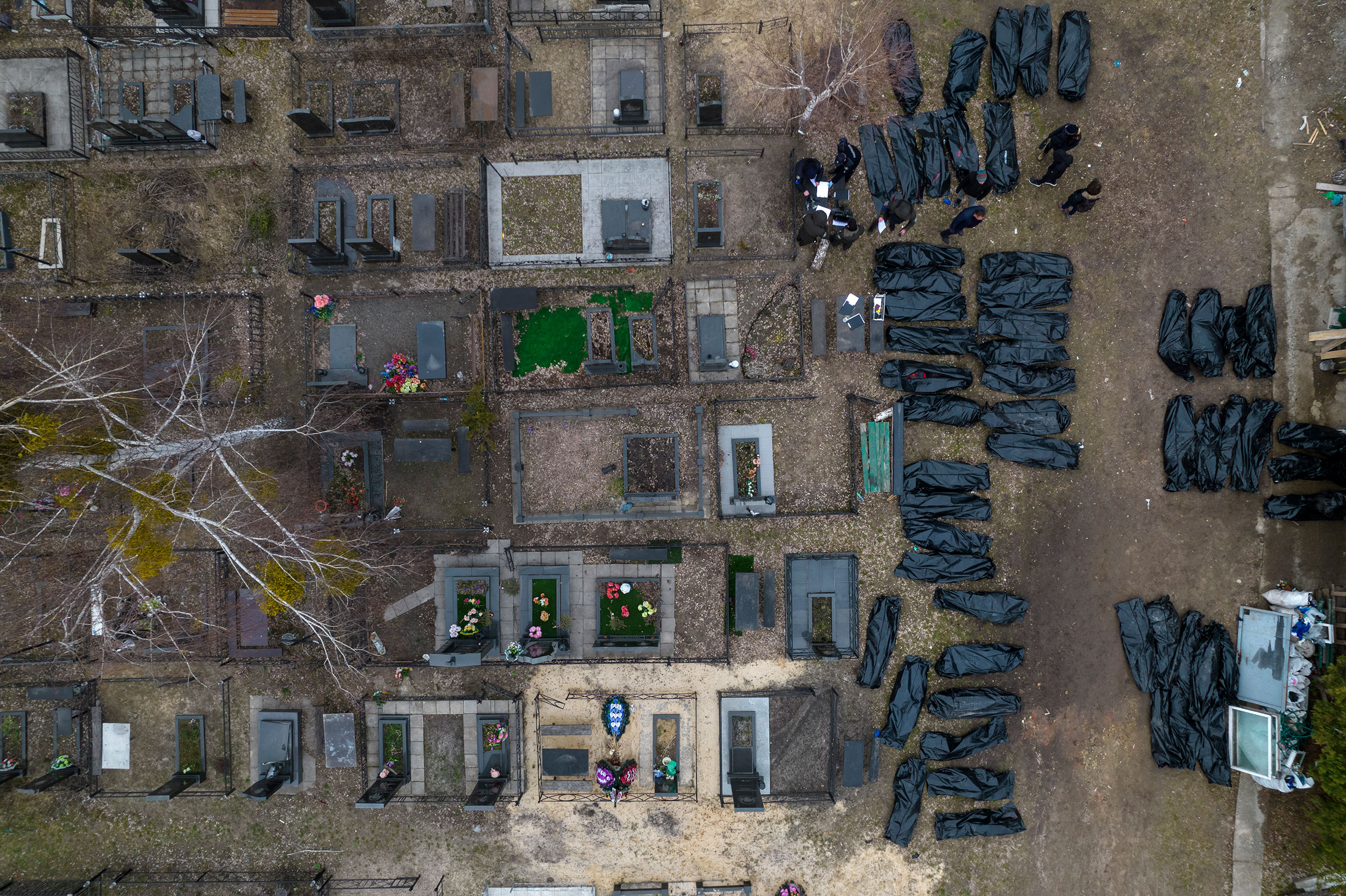 As Russian forces ramp up their attacks on eastern Ukraine and the civilian death toll rises, NATO officials met in Brussels on Wednesday to discuss sanctions against Moscow and support for Kyiv.
Here's the latest:
NATO warning: Despite Russia shifting its military focus to the east of the country, NATO's chief warned the war could stretch on for years, as Russian President Vladimir Putin wants "to control the whole of Ukraine." Secretary general Jens Stoltenberg also thanked the US for imposing sanctions on Russia, boosting defense capacities in Europe, and supporting Ukraine.
UK's stance: At a dinner with NATO foreign ministers, the British foreign secretary said the "age of engagement with Russia is over," and "it is time to cast off an outdated approach to handling Russia."
US sanctions Putin family: The White House announced a new round of sanctions targeting major Russian financial institutions — as well as Putin's adult daughters, Mariya Putina and Katerina Tikhonova. The US hopes to freeze any assets Putin may be hiding with them, according to a senior US official.
Trenches at Chernobyl: Ukrainian authorities released drone video Wednesday showing abandoned Russian military positions, including vacant pits and trenches, in a highly radioactively contaminated area near the Chernobyl Nuclear Power Plant.
Zelensky's plea: In his nightly address Wednesday, the Ukrainian President sent a message to the world that the "attitude to Russia is simple: either you support a search for peace or you're supporting mass murders." He also stressed the need to revive Ukraine's economy, and said he would call for the complete blockade of Russian banks from the international banking system.
Russian speakers killed: In an interview with a Turkish outlet, Zelensky claimed people in Russian-speaking regions of Ukraine — including hundreds of children — have died in Russian airstrikes. Russia "told these people that they were coming to defend them," he said.
Civilian casualties: At least 1,563 civilians have been killed since the Russian invasion of Ukraine began, according to UN estimates. More than 2,200 have been injured.
Horror in Bucha: More global leaders are condemning Putin and Russian forces after the horrifying images of civilian casualties from Bucha, a Kyiv suburb, that emerged over the weekend. Journalists at the scene this week described seeing victims with their hands bound behind their backs, shot multiple times.
1 hr 27 min ago
Video shows Russian forces dug trenches in highly radioactive off-limits area near Chernobyl
From CNN's Jonny Hallam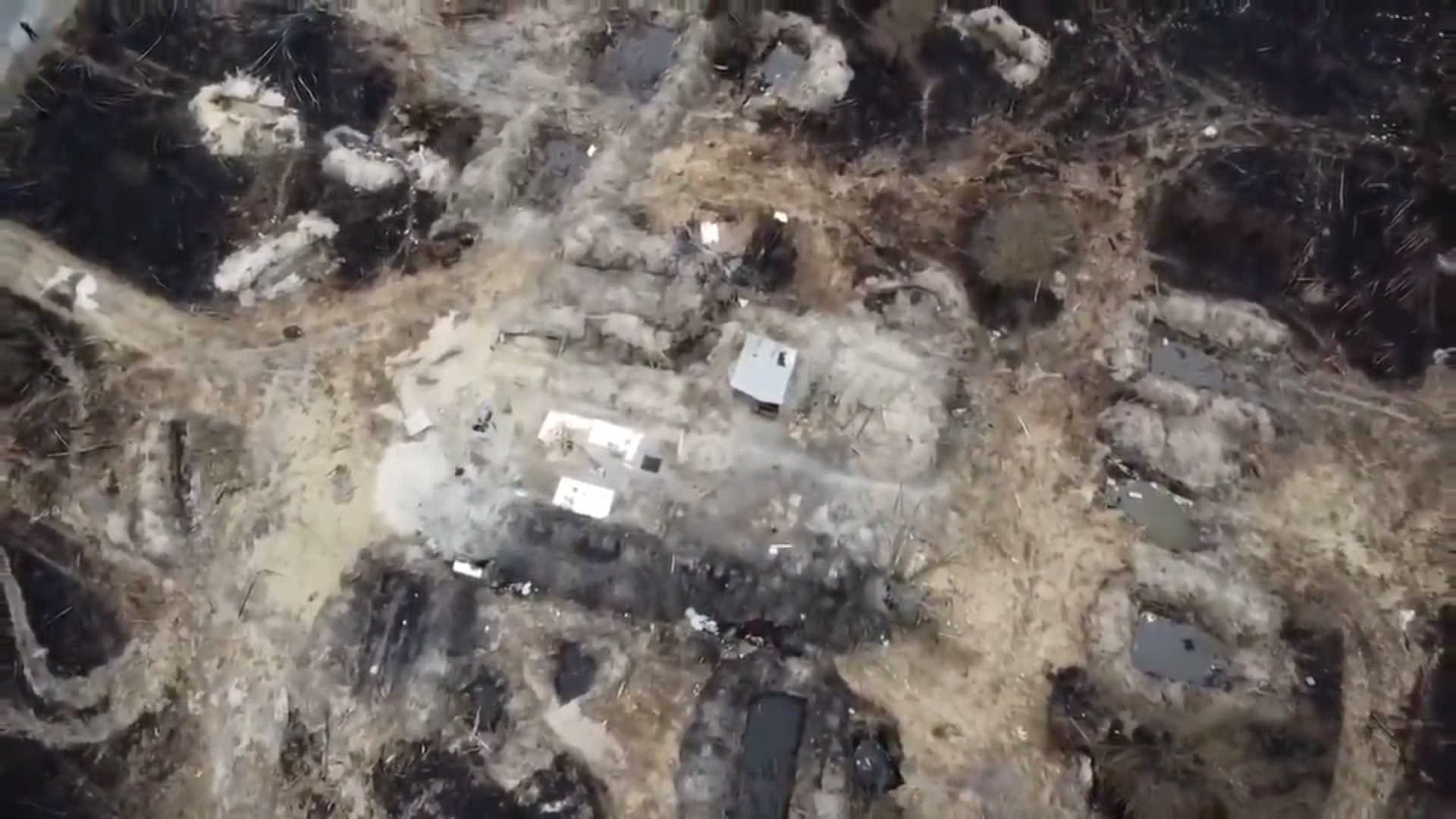 Abandoned Russian military positions in a highly radioactive area of the exclusion zone near the Chernobyl Nuclear Power Plant can be seen in drone video released Wednesday by Ukrainian authorities.
The video — filmed by the Ukrainian military and released on Telegram by Energoatom, the state-owned operator of Ukraine's nuclear power plants — shows vacant pits and trenches of abandoned military fortifications in an area known as the Red Forest.  
According to Reuters, the Red Forest got its name when dozens of square kilometers of pine trees turned red after absorbing radiation from the 1986 explosion at Chernobyl — the world's worst nuclear disaster.
Tank tracks and heavily disturbed ground can also be seen in the forest — considered the most polluted area in the entire Chernobyl exclusion zone — and off limits to anyone who does not work there or have special permission.
Radiation dangers: Last Friday, Energoatom said it was unclear what Russian troops were doing in the Red Forest and it is possible they could have received significant radiation exposure when digging or entrenching there. 
Thick radioactive dust kicked up by heavy Russian vehicles could have been inhaled by the troops, who were not wearing anti-radiation protective equipment, plant workers said.
Chernobyl fell into the hands of Russian troops in the first week of the war in Ukraine. On Thursday, Russian troops announced their intention to leave and handed over control to Ukrainian personnel. The plant is now back under the control of Ukrainian authorities.
1 hr 55 min ago
NATO foreign ministers are meeting in Brussels to discuss the war in Ukraine. Here's the latest
Foreign ministers from NATO member states are meeting in Brussels on Wednesday and Thursday to discuss sanctions against Russia and ways to support Ukraine.
On Wednesday, US Secretary of State Antony Blinken met with his NATO counterparts, plus foreign ministers from non-NATO countries, including Australia and Japan.
Here's what you need to know:
Grim warning: NATO chief Jens Stoltenberg warned the war could stretch on for years, as Russian President Vladimir Putin wants "to control the whole of Ukraine." He added that over the next few weeks, officials expect Russian forces to resupply with fuel, food and other supplies, with the aim of launching a brutal new offensive in the Donbas region of eastern Ukraine.
Possibility of re-invasion: It remains unclear what Putin's long-term goals are, a senior US defense official said. But despite the recent shift in strategy and several rounds of Russia-Ukraine peace talks, the US and its allies are preparing for the possibility that Putin could try to reinvade the Kyiv region once he completes his objectives in eastern Ukraine, assuming he has enough manpower and equipment left to do so, US and European officials told CNN.
UK's stance: At a dinner Wednesday night, UK Foreign Secretary Liz Truss said the "age of engagement with Russia is over," and "we need a new approach to security in Europe based on resilience, defense and deterrence." She added that she is working with her G7 counterparts to impose more sanctions on Russian banks.
Oil embargo: Lithuania's foreign minister called the European Union's proposed sanctions on Russia "disappointing," comparing them to sanctions on candles or firewood. He called for the bloc to impose an oil embargo on Moscow, adding: "If we're serious about our reaction to massacres of Bucha and other cities that are being uncovered, then we have to be serious with our sanctions."
Canada's summons: The Canadian foreign minister said Canada will summon Russia's ambassador in Ottawa over the allegations of mass murder of civilians in Bucha, a suburb of Kyiv, by Russian soldiers. 
3 hr 47 min ago
"The age of engagement with Russia is over," UK Foreign Secretary tells NATO
From CNN's Mia Alberti
The "age of engagement with Russia is over," UK Foreign Secretary Liz Truss said at a dinner with NATO foreign ministers in Brussels on Wednesday, according to a statement from the UK Foreign Office released ahead of the dinner.
In her remarks, Truss told her NATO counterparts the "NATO-Russia Founding Act is dead and it is time to cast off an outdated approach to handling Russia," the foreign office said.
The Act, signed in 1997, rules that "NATO and Russia do not consider one another adversaries", according to the original document.
"The age of engagement with Russia is over. We need a new approach to security in Europe based on resilience, defense, and deterrence", Truss said.
NATO meeting: Truss's remarks come as NATO foreign ministers convene in Brussels to discuss Russia's invasion of Ukraine.
According to the statement sent to CNN, Truss underlined that NATO cannot allow "security vacuums" at the alliance's Eastern borders and should "rethink" support for countries "caught in the web of Russian influence" such as Georgia, Moldova, Sweden and Finland. 
The foreign secretary also urged her partners to toughen sanctions and arm Ukraine "quickly and decisively … to ensure Putin fails."
Truss also said she is working with her G7 counterparts to impose more sanctions on further Russian banks, according to an op-ed published in The Telegraph on Wednesday. In the article, Truss defended increasing NATO spending and presence in Eastern Europe.
"For NATO to remain at the vanguard of global security, it must be bold. As President Eisenhower, the alliance's first supreme commander, said: "History does not long entrust the care of freedom to the weak or the timid," the foreign secretary wrote.
4 hr 59 min ago
Biden says "major war crimes" being discovered in Ukraine as he imposes new sanctions on Russia
From CNN's Kevin Liptak, Betsy Klein and Kaitlan Collins
President Joe Biden declared "major war crimes" were being discovered in Ukraine as Russian forces retreat from areas around Kyiv, citing scenes of brutal, cold-blooded executions as rationale for ratcheting up US sanctions on Moscow.
"Responsible nations have to come together to hold these perpetrators accountable," Biden told a union crowd in Washington as the White House announced new sanctions on Russia's largest financial institutions and a number of individuals tied to the Kremlin, including Russian President Vladimir Putin's two adult daughters.
"We will keep raising the economic cost and ratchet up the pain for Putin and further increase Russia's economic isolation," Biden said, decrying the intentional targeting of civilians by Russia and heralding a united Western response, even as he acknowledged the battle was ongoing.
Horrific images from the Ukrainian city of Bucha imparted "a sense of brutality and inhumanity left for all the world to see, unapologetically," Biden said in his remarks as he announced new steps the US was taking to punish those responsible.
The sanctions are designed to tighten the vise on Russia's economy, which has been kneecapped by Western punishment. Still, ever-harsher consequences for the invasion of Ukraine have not appeared to force Putin to ease a brutal campaign that has increasingly targeted civilians.
Biden has previously said he believes Putin to be a war criminal, and this week called for a trial to hold Moscow accountable. Still, the process for prosecuting war crimes is complex and lengthy, and questions remain about how and when such accountability could be delivered.
Read more: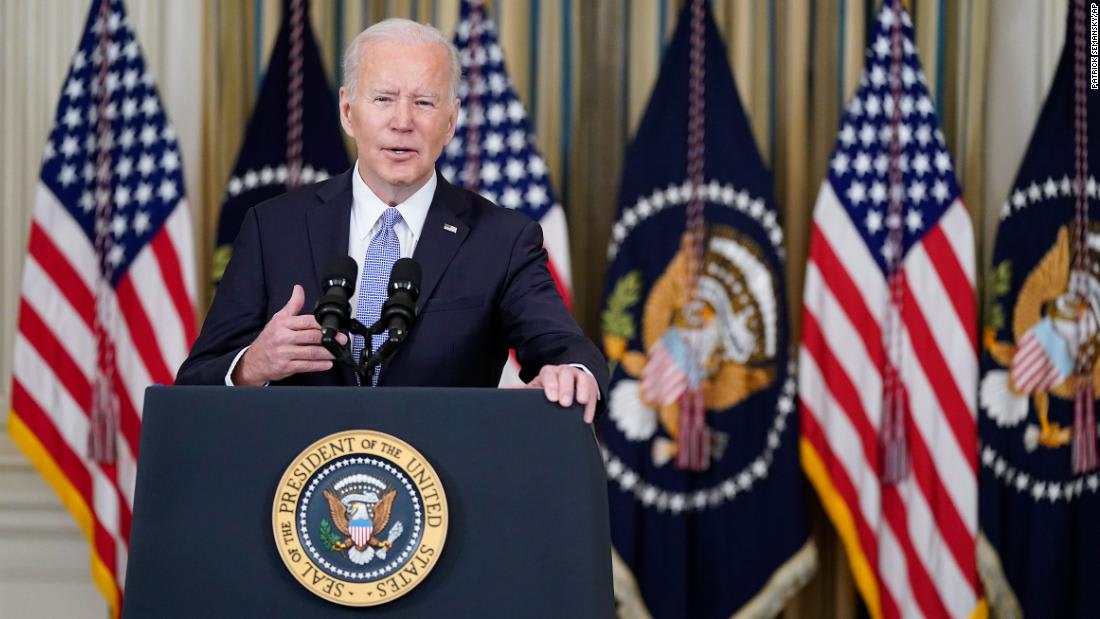 1 hr 27 min ago
Ukraine war could last for years as Putin still wants the "whole of Ukraine," NATO chief says
From CNN's Amy Cassidy
Although Russia is now concentrating its assault on eastern Ukraine, NATO has seen "no indication" that Russian President Vladimir Putin's aim of controlling the whole country has changed, Secretary General Jens Stoltenberg said Wednesday.
Speaking to reporters before a meeting in Brussels of foreign ministers of NATO allies, Stoltenberg also warned the war in Ukraine could last for years.
"We have seen no indication that President Putin has changed his ambition to control the whole of Ukraine and also to rewrite the international order, so we need to be prepared for the long haul," he said. "We have to be realistic and realize that this may last for a long time, for many months or even years."
Weapons for Ukraine: The foreign ministers of NATO countries are meeting Wednesday and Thursday to discuss ramping up support for Ukraine.
Kyiv has been calling for tanks and fighter jets on top of the defense systems already provided by the West.
"I will not go into all details of exactly what kind of weapons equipment allies are providing, but I can say the totality of what the allies are doing is significant, and that includes some heavier systems combined with lighter systems," Stoltenberg said.
He warned the Ukraine war will have long-term security implications for Europe regardless of when it ends. 
"We have seen the willingness by President Putin to use military force to reach his objectives. And that has changed the security reality in Europe for many, many years," the secretary general said.