The local hospitality and tourism industries in San Marcos, Buda and Kyle are rebounding toward pre-pandemic standards after coronavirus-related restrictions halted business with closures and cancellations of events.
Tourism has an overarching impact on the economy of local cities with travelers spending money, not only on hotel rooms that funnel money to the city through hotel occupancy taxes, but also at local restaurants and businesses, according to Buda Director of Destination Services Lysa Gonzalez.
By staying and spending within Buda, visitors boost the local economy as evidenced by the increase from 30% hotel occupancy in the first half of FY 2020-21 to 50% by March 2021 which has continued to increase steadily throughout 2021, reaching pre-pandemic occupancy rates.
The San Marcos hotel industry is also picking up and has recovered, according to Rebecca Ybarra, San Marcos director of destination services, stating that the hotel occupancy tax numbers are proving to be even better than in 2019, though it is not always possible to pinpoint what attracts crowds to the city, she added.
Revenue on the rise
"Hotel occupancy tax is what the state and city pulls in from visitors when they come to town," Kyle Director of Economic Development Diana Blank-Torres said. "Portions of that can be used to promote tourism."
The state portion of the taxes is 6% of the cost of the room, according to the Texas Comptroller. Buda and Kyle both have a local 7% tax rate with San Marcos at 9%.
As hotel occupancy tax revenue in San Marcos fell in February and March 2020, the numbers for 2021 around the same time began showing signs of improvement and continued to rise.
The city of San Marcos recorded approximately $290,000 in hotel occupancy taxes in February 2020, which dropped to about $80,000 in collections by April, around the onset of the pandemic and shelter-in-place order issued by Hays County Judge Ruben Becerra.
Through May and June 2020, the city reported a steady increase in tax revenue when city river parks reopened to the public, though the tax revenue did not reach the pre-pandemic point of $290,000 and barely hit $200,000 around the time city parks reopened. July experienced a decrease after the parks closed once again, according to data from the city.
February and March 2021 reported the beginning of an increase in tax revenue that peaked in July at about $550,000—higher than any point from 2018-2020, according to the data. Data from the city of Kyle reported a total of $291,713 in hotel occupancy tax revenue for 2020, which was approximately $50,000 less than the 2019 revenue at $340,587.
Utilizing the revenue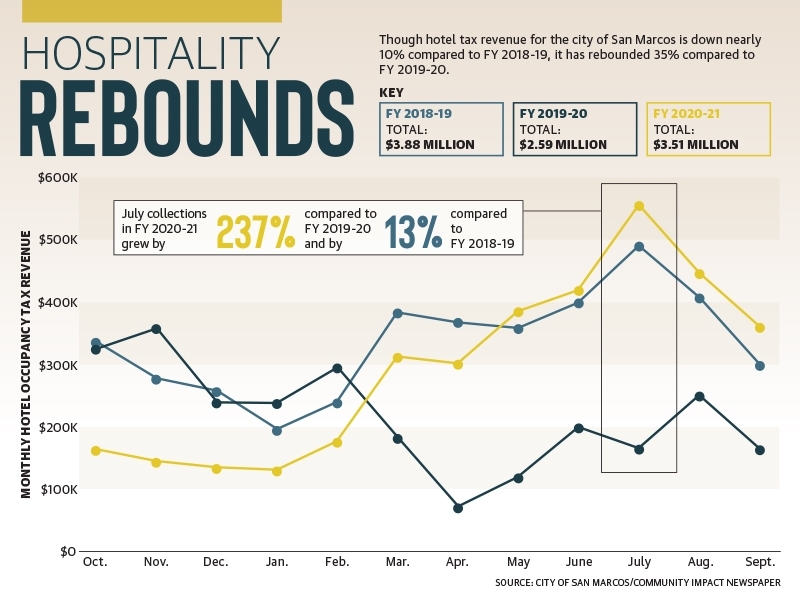 The revenue that comes from the hotel occupancy taxes can go toward advertisement and promotion of events, which could subsequently attract visitors and result in more hotel stays. The city of Buda has a Hotel Occupancy Tax Reimbursement Grant that will reimburse organizations for expenses incurred while planning or hosting an event if the organization can prove that the event increases overnight stays within the city.
This program allowed the Inspired Minds Art Center to be reimbursed for funds that were spent promoting its second annual Plein Air Art Festival in September 2021. According to the center, the festival began during the pandemic, while other events in Buda and neighboring cities were being canceled, as a way to bring people together safely outdoors.
Though Inspired Minds Art Center saw success with the launch of a new festival during the pandemic, other events were not as lucky as they charted their own paths for dealing with the events and activities that generally drew large crowds.
The annual Kyle Pie in the Sky Hot Air Balloon Festival, also held in September, was canceled in 2021 after being postponed in 2020. Blank-Torres said the coronavirus strained the event in many ways from planning to the safety of attendees to the lack of volunteers able to work the event.
The struggle to keep up
Despite the return to business for hotels and tourism in the area, Andy Patel, manager of La Quinta Inn & Suites by Wyndham in Kyle, said he is struggling to keep up with the demand."We don't have enough staff; I have to work at least 12-16 hours every day," Patel said.
With being so busy and trying to meet the demand with a smaller staff, it is hard to maintain standards of service, he added. Pre-pandemic, the cleaning department was staffed at eight but is now down to three, and the front desk has dropped from six employees to four.
Summer, Thanksgiving and Christmastime are usually peak seasons for the hotel; however, this Thanksgiving was different than the rest, he said. "Summer was busy, but I didn't see any more business during Thanksgiving break, and I'm not seeing a forecast for Christmas," Patel said.
He added that his hotelier friends in San Marcos are also experiencing a downturn of business during Thanksgiving. He said that many people pre-pandemic traveled from out of town and even out of state, stayed in the area and shopped at the outlet malls for black Friday. Patel hopes to hire more employees before Christmas.
Setting the city up for success
In the past, Kyle has relied on historical and recreational tourism to attract more visitors and connect with the community. Blank-Torres said the city is working on improving its tourism strategies and creating more opportunities for destination, recreational and family-oriented attractions. Part of the focus of increasing tourism also involves spreading awareness about the events and activities that are already available in the city for residents.
"A lot of people have looked at Kyle as a bedroom community. That has been a part of the drive for us to create things that will give our community options as well as drive people here for specific reasons, not just to live and have convenience for work, that there's actual quality-of-life activities," Blank-Torres said. "Once we can announce a couple of projects that we have through the [economic development corporation], that's going to be a catalyst to a lot of permanent tourism drivers like different kinds of businesses that would bring people here."