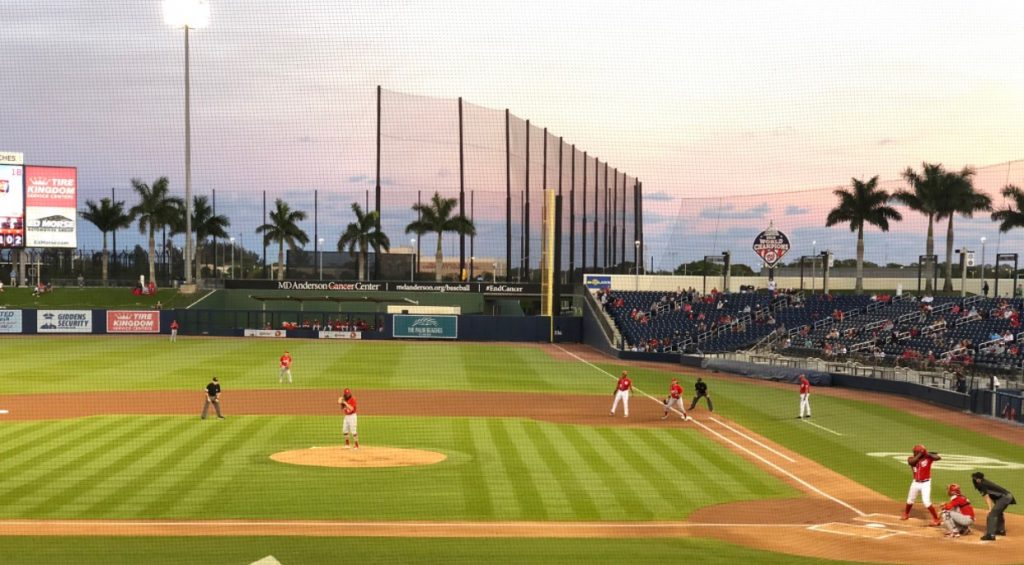 WEST PALM BEACH, FL; Josh Bell batting in March 2021; Photo by Tom Sileo for TalkNats
The lockout is over, the time has come: It's spring training at West Palm Beach.
The Washington Nationals are welcoming back some old friends, getting to know some new additions, and, as usual, trialing more than a handful of non-roster invitees who have variable chances to make the team. The situation should be familiar to fans: Most roster spots are spoken for, but the rotation isn't quite settled, very little about the bullpen is, and it's still unclear who will be manning left field, third base, and shortstop for the Nats on an everyday basis.
Spring is a time of endless possibilities, so while many of these players are long shots to make the team, expect to see more of more of them than you expect.
Note that since most uniform numbers haven't been announced yet, this list is as of yet in no particular order. I'll put it into numerical order once that information is available.
Career stats (MLB): .286/.319/.360, 0.4% HR, 14.9% K, 4.1% BB
2021 stats (minors): .248/.288/.370, 244 PA, 5 HR, 11 K, 1 BB
On the 40-man roster?: No
Minor league options remaining?: No
Nats fans are likely familiar with Dee Strange-Gordon (formerly just Dee Gordon) from his time with the Miami Marlins from 2015 to 2017. Strange-Gordon, 34 next month, is a lefty batter whose calling cards have always been his ability to make contact and his ability to steal bases (333 career in the majors, plus 236 in the minors, although his steal attempts have dropped off precipitously since 2017 and he only attempted seven steals in the minors in 54 games last season). He has experience at both middle infield positions as well as in center field.
At this point in his career, it's not at all clear Strange-Gordon has anything left in the tank. His profile scans as a classic case of a slap hitter with wheels who is now in his mid-30s and doesn't have the speed he used to, either with the bat or with the legs. But in his prime, he was a player opposing teams had to plan around; he won the National League batting title with Miami in 2015, just barely beating out the Nats' Bryce Harper, although that achievement was tainted somewhat when Gordon tested positive for PEDs following the season. He's also been MLB's steals leader thrice, in 2014, 2015, and 2017, although he also led MLB in caught-stealings in two of those seasons.
For the Nats, Strange-Gordon is a noteworthy flier but not someone they've invested much in. He's on a minor league contract and could stick around at Triple-A, perhaps as a depth option or to be brought up if he catches fire at some point. If he catches fire this spring and shows his lackluster 2021 season bouncing around the minors was a fluke, he has a shot at opening the year in the majors, although he's not going to threaten anyone's job in the starting lineup without injuries. Expect the Nats to move on from him pretty quickly if he comes up to The Show and doesn't perform; it's been five years since he stole more than 30 bases in a season or posted an OPS above .700, and he only has one career season with an OPS above .750, and that was the one for which he got busted doping. Caveat emptor.
Career stats (MLB): 2.85 ERA, 1.20 WHIP, 1.6% HR, 24.7% K, 9.7% BB
2021 stats (MLB): 3.42 ERA, 1.49 WHIP, 0.7% HR, 20.8% K, 13.3% BB
On the 40-man roster?: Yes
Minor league options remaining?: No
When was the last time the Nats had a true sidearmer on their pitching staff? You may have to go back to before they were called the Nats. Cishek, 36, is definitely a true sidearmer whom Nats fans likely recognize from his time with the Marlins, from 2010 to 2015. He's used his funky pitching motion and stuff to consistently rack up high rates of soft contact throughout his career, with just a 28.2% hard contact rate according to FanGraphs. (By way of comparison, Sean Doolittle had a 29.5% hard contact rate in his outstanding 2018 season with the Nats.)
At this point in his career, Cishek is a middle reliever with setup upside; Cishek does have 132 career saves, but only 12 of those have come after 2016 and none in the past couple seasons. And he's been pretty wobbly in those past couple seasons, to be honest. A 3.87 ERA isn't terrible but it's not great for a high-leverage reliever. A 1.49 WHIP is rather poor. Cishek has continued to limit hard contact, for the most part (his HR rate did tick up sharply in the shortened 2020 season, when he only pitched 20 innings, but it was back down to a low level in 2021), but his walk rate has jumped relative to his career norms and his strikeout rate has slipped a bit.
The Nats haven't made a huge investment in Cishek, agreeing to pay him a reported $1.75 million before incentives, according to reports. That's a decent price for a relief pitcher who has been generally solid over his career and gives them a very different look in the bullpen. That being said, for any Nats fans looking for Mike Rizzo to sign a relief ace, Cishek doesn't scratch that itch. The Nats will hope he can fill a seventh-inning role in their relief corps.
Career stats (MLB): .270/.345/.384, 1.4% HR, 20.7% K, 9.7% BB
2021 stats (MLB): .232/.308/.386, 3.3% HR, 21.2% K, 9.3% BB
On the 40-man roster?: Yes
Minor league options remaining?: No
The switch-hitting Hernández, 32 in May, has felt for a while like a Nats type of guy. The Nats obviously know him best from his seven seasons with the Philadelphia Phillies, from 2013 to 2019. He's been in the AL Central since then, and now he returns to the NL East with a good chance to be the Nats' starting second baseman.
It's tough to know what to make of Hernández today. He's generally been well-regarded for his glove, even winning a Gold Glove Award at second base in 2020, but his defensive metrics slid in 2021. He's never been known as an offensive dynamo, but he cranked a career-best 21 homers in 2021, all but three of those coming with the Baseball Team Formerly Known as the Cleveland Indians before a midseason trade to the Chicago White Sox. He's generally been considered a contact hitter who gets on base at a decent clip, but he reached safely in less than one-third of his plate appearances in 2021.
For the Nats, Hernández is a fairly cheap flier in a sea of fairly cheap fliers suiting up this year for Washington. He seems to be part of Mike Rizzo's "quantity over quality" approach to filling out his infield mix, joining fellow low-cost journeymen Ehire Adrianza, Dee Strange-Gordon, and Maikel Franco, organizational stalwarts Adrián Sánchez and Jake Noll, and former prospects Carter Kieboom, Luis García, Lucius Fox, and Andrew Young among those vying for prominent places on the team. The Nats will hope they see Hernández combine the power he showed off in 2021 with the on-base skills he was known for previously, get right on defense, and hold down second base in a steady if unspectacular fashion through the 2022 season. If not, they have plenty of alternatives.
Career stats (MLB): .244/.313/.366, 1.5% HR, 19% K, 8.1% BB
2021 stats (MLB): .247/.327/.401, 2.4% HR, 20.1% K, 10.1% BB
On the 40-man roster?: Yes
Minor league options remaining?: No
While it's unclear just where the Nats intend to play Adrianza, it's clear why they signed him: He's versatile, cheap, switch-hits, and posted some interesting peripherals last year in limited action (209 plate appearances) with the Atlanta Braves. Previously, the Nats likely best remembered Adrianza as a member of the San Francisco Giants team that bounced them in a heartbreaking 2014 NLDS before going on to win the World Series. Although he's never established himself as a starter, he was used in a superutility role for the Minnesota Twins in 2018 and 2019, the latter of which was a career-best season for him as he posted a .765 OPS and was worth about a win above replacement.
Adrianza, 32, is a prime example of a player who has never been particularly good, just "good enough" to stick in the majors for quite a while. This will be his tenth season of major league action, assuming the Nats don't cut him loose before Opening Day (his reported $1.5 million salary doesn't lock him in as inexpendable, but it seems like a safe bet he'll make the team). While he's never done much with the bat, having just 21 career home runs and reaching base safely not quite one-third of the time, he can play just about anywhere and has experience at all three outfield positions and all four infield positions. Heck, he's even pitched a couple times.
Adrianza goes straight into the "see what sticks" file. The Nats don't have much riding on him, but he has the upside of a guy who can play everywhere and provide a professional at-bat off the bench, as he did for the Braves last year. While the introduction of the designated hitter severely devalues the bench in the National League, with the likely result that reserves will get significantly fewer chances to pinch-hit, that actually works somewhat in Adrianza's favor because he's rarely going to be a manager's first choice to hit and he's not a top-tier defensive replacement. Rather, expect to see him used to spell whomever needs a day off, a role he ought to be able to hold down for the Nats even if they're not getting much value from him as a game contributor.
Career stats (minors): .244/.339/.332, 0.8% HR, 22.1% K, 11% BB
2021 stats (minors): .245/.353/.376, 1.9% HR, 24.8% K, 13.7% BB
On the 40-man roster?: Yes
Minor league options remaining?: Yes
When he's not building Batman's cool gadgets and tricking out his Batmobile, Lucius Fox has been putting up unremarkable hitting stats as a switch-hitter in the minor leagues. The Bahamian, 24, has never lived up to his former top prospect billing, wending his way through stints in the San Francisco, Tampa Bay, and Kansas City organizations before landing with the Nats this winter. He has yet to make his major league debut, although he is on the 40-man roster.
Perhaps best known for his speed at a time when stolen bases have fallen out of fashion, Fox ripped 19 bags in 21 tries with Triple-A Omaha last year. He stole a career-high 39 in 2019, although he was caught 11 times that season. He also had an impressive walk rate, allowing him to put that speed into play. Beyond that skillset, Fox is pretty much your prototypical light-hitting middle infielder. Of minor note, teams haven't really slotted him in as either a second baseman or a shortstop, as he played most of his innings in 2021 at second but still started 19 games at short. He also saw limited action in center field and has played a little third base too. That flexibility may have been enough to get the Nats' attention when he was on the waiver wire in November.
It's tough to project a major league role for Fox out of spring training, unless he really impresses. He's struggled to establish himself as a really good Triple-A player, and he seems likely to figure into the Nats' 2022 plans as injury depth up the middle rather than as a ready-to-go contributor. Still, Fox will get his opportunities this spring, and he seems like a worthwhile flier as long as you don't set your expectations very high.
Career stats (MLB): .275/.322/403, 1.7% HR, 17.4% K, 6% BB
2021 stats (MLB): .237/.292/.351, 1.9% HR, 28% K, 5.6% BB
2021 stats (minors): .222/.385/.333, 1.1% HR, 18.7% K, 20.9% BB
On the 40-man roster?: No
Minor league options remaining?: No
The diminutive Gerardo Parra, 35 in May, requires no real introduction. An early-season pickup by the Nats in 2019, he went on to become a major contributor to their World Series victory. After spending 2020 in Japan, he returned to the fold in 2021, splitting the year between Triple-A Rochester and the majors, and he's now back this year on a minor league contract.
After some leg injuries over the past couple seasons, it's not clear how much Parra has left in the tank. He made little impact during his 107 plate appearances as a National in 2021, although fans loved his two home runs and clapped along as ever to his familiar "Baby Shark" walkup music. His defense has noticeably regressed, with the Nats preferring to deploy him in the less demanding left field position for most of 2021 with just limited appearances in center and right, where he logged the most time in 2019.
All the same, Parra provides a welcome presence in the clubhouse and representing one of the last few links to the 2019 championship team. On a minor league deal, there's no real risk to the Nats in seeing if he has anything to offer in spring training. Barring a monster spring or some injuries, expect him to begin the season back at Triple-A Rochester, but don't be surprised to see the Nats recall him once the need for an outfielder arises.
Career stats: 4.05 ERA, 1.31 WHIP, 2.7% HR, 20.8% K, 7.9% BB
2020 stats (MLB): 6.62 ERA, 1.66 WHIP, 4.5% HR, 17.6% K, 7.4% BB
On the 40-man roster?: No
Minor league options remaining?: No
What's so bad about being a bit sentimental? Well, the Nats learned the hard way in 2020 when they brought back a number of aging players from their 2019 team, including Aníbal Sánchez, and experienced the heartbreak of seeing them crash and burn in the shortened season. Just a year removed from a more-than-solid 2019 season in which he saved his best pitching performance for a scene-setting NLCS blitz of the St. Louis Cardinals, Sánchez struggled badly in 2020 and ended up not getting a contract offer to his liking in 2021.
There's no such thing as a sure thing, as they say, but Sánchez carries an uncommon level of risk, having all of 53 woeful innings to his name at any level since hoisting the piece of metal in 2019 and having just celebrated his 38th birthday. Or anyway, Sánchez would carry an uncommon level of risk, had the Nats not managed to bring him back on a split deal. While he could make over $2 million if he is promoted to the active roster, the Nats are not obligated to bring him north if they don't like what they see from him in spring training.
Sánchez likely has three possible outcomes. One, he doesn't show much in spring or injures himself coming off a very long layoff, and he doesn't make the team. (Don't expect a 38-year-old world champion to stick around at Triple-A just in case; figure he's gone if he doesn't break camp with the Nats.) Two, he gets right back in the groove, earns a spot on the roster, and helps stabilize a very shaky rotation. Three, he does enough to make the team, or to earn an early-season callup, but doesn't do enough to continue earning his place on the roster. The latter path recalls another former world champion mid-rotation pitcher in his late 30s whom the Nats brought to spring training a few years ago: Jeremy Guthrie. One hopes we don't see a repeat of that with Sánchez, one of the most beloved members of the 2019 club. The Nats could certainly use the 2019 version of Sánchez this year.
Career stats (minors): 3.06 ERA, 1.18 WHIP, 1.1% HR, 22.3% K, 9.1% BB
2021 stats (MLB): 4.05 ERA, 1.35 WHIP, 0% HR, 17.9% K, 10.7% BB
2021 stats (minors): 1.87 ERA, 1.08 WHIP, 0.9% HR, 38.1% K, 13.4% BB
On the 40-man roster?: Yes
Minor league options remaining?: Yes
The Nats scooped up Francisco Pérez on a waiver claim from the Cleveland Guardians in November. The 24-year-old southpaw gives them an intriguing bullpen asset, coming off an excellent 2021 season in which he made a brief major league debut. With a mid-90s fastball, 12-6 curveball, and improving slider, he has effectively racked up strikeouts in the minors and punched out five over 6⅔ innings in the majors.
Of course, there's an obvious flaw with Pérez, and of course, it's the same flaw that most Nats pitching prospects have: His command is iffy. Pérez posted a 2.83 strikeouts-to-walks ratio in 2021 across Double-A Akron and Triple-A Columbus, which really isn't awful, but it makes an otherwise very impressive K rate look less special. In the majors, while it's hardly fair to judge based on just four games, Pérez's strikeout rate dropped and his walk rate shot up further. Clearly, he will need to adapt to have success at a higher level.
The Nats' bullpen picture is such an unsettled mess right now that it really isn't hard at all to picture Pérez breaking camp with the team. He's already on the 40-man roster, he pitched decently in the majors last year and had great success in the minors, and while the Nats may find themselves gritting their teeth through a lot of three-ball counts, it's hard to argue the team isn't in a good place right now to let a young talent like Pérez try to work out the kinks against top-level hitting. Alternatively, the Nats could option Pérez back to the minors for more seasoning. Even if he doesn't start the year in D.C., it wouldn't be surprising to see him recalled sooner rather than later.
Career stats (minors): .278/.338/.462, 3.4% HR, 28.7% K, 7.5% BB
2021 stats (minors): .269/.329/.430, 3% HR, 31.6% K, 6.8% BB
On the 40-man roster?: Yes
Minor league options remaining?: Yes
There are definitely things to like about Donovan Casey. The 26-year-old outfielder made a big impression after coming over from the Los Angeles Dodgers last July in the Max Scherzer/Trea Turner blockbuster, flattening Double-A East pitching with a .965 OPS after the trade, but then hit a wall soon after moving up to Triple-A Rochester, where he posted a lowly .536 OPS while striking out 57 times in just 147 plate appearances. He was more than twice as likely to end a plate appearance with a whiff than with a hit. He rebounded in the Arizona Fall League with an .815 OPS, albeit over just 57 plate appearances.
At his best, Casey offers huge raw power and a tenacious approach to hitting that allows him to make good use of it in-game. He's also a competent center fielder with a howitzer for an arm, giving him the tantalizing profile of a potentially above-average offensive player at a premium defensive position. At his worst, Casey strikes out on his way to the batter's box and wouldn't accept a walk if it came with an all-expenses-paid visit to Disney World. The Nats have faced this kind of dilemma before with young outfielders (Michael A. Taylor, Steven Souza Jr., and Víctor Robles are among the names that spring to mind), but having just turned 26 last month, Casey isn't actually that young.
Given his unimpressive showing at Triple-A late in the 2021 season, Casey is an extreme long shot to make the team out of spring training. He could impress enough to be considered a viable callup later in the season, though. It will likely depend on whether he shows he can handle Triple-A pitching. That remains an open question, although his selection to the 40-man roster suggests the Nats have at least some degree of optimism here.
Career stats (minors): 3.83 ERA, 1.36 WHIP, 1.6% HR, 30.4% K, 10.8% BB
2021 stats (minors): 4.32 ERA, 1.31 WHIP, 1.8% HR, 31.4% K, 9.7% BB
On the 40-man roster?: Yes
Minor league options remaining?: Yes
A 24-year-old lefty, Lee did enough at High-A Wilmington and in the Arizona Fall League last year to earn a spot on the 40-man roster (although it turned out that with the Rule 5 draft canceled, that probably wasn't necessary). The Nats have been using Lee as a starter for the most part, although he came out of the bullpen in 2021 and was mostly a reliever in college (Arkansas). Most of the drama surrounding Lee in 2022, such as it is, is whether he returns to a relief role or the Nats keep trying to make him into a potential future rotation piece.
To be clear, Lee is very much a work in progress. He still allows too many baserunners, and discounting the AFL, he has yet to pitch above High-A. The Nats clearly like his big strikeout rate, and if he shifts back into the 'pen, perhaps his stuff plays up and he ends up being a late-game weapon. But there's a lot of ifs, ands, and buts.
It's very, very unlikely Lee makes the team out of spring training. The Nats will almost certainly want to see how he does against Double-A hitting before even considering him for a promotion to The Show. Still, this is a good opportunity for the team to evaluate one of their pop-up prospects from the 2021 season, and it's a chance for Lee to sit at the knee of more seasoned veterans like Patrick Corbin and Aníbal Sánchez. Expect him to report to Double-A Harrisburg to begin the season.
Career stats (MLB): .205/.319/.462, 5.1% HR, 39.9% K, 8% BB
2021 stats (MLB): .209/.298/.484, 5.8% HR, 43.3% K, 5.8% BB
2021 stats (minors): .304/.388/.598, 4.9% HR, 34.8% K, 8.9% BB
On the 40-man roster?: No
Minor league options remaining?: Yes
With the major league portion of the Rule 5 draft canceled due to the lockout, the Nats have the distinction of being one of the few teams to have acquired a player with major league experience through Rule 5 this winter. The Arizona Diamondbacks waived and outrighted Young, 28 in May, after he spent parts of two seasons with the major league team, and since Young wasn't protected in the minor league portion of the Rule 5 draft, the Nats snapped him up.
It doesn't really take a seasoned scout to diagnose the problem with Young: He strikes out way, way too much. It's tempting, given his light-tower power as a versatile defensive player who can play both second and third base and corner outfield, to think of Young as someone who can provide premium pop while filling out a lineup spot that would normally be occupied by a light hitter. But time is working against Young, who is heading into his late 20s without figuring out how to avoid striking out in more than one-third of his plate appearances.
If there's room for optimism with Young, it shows in his Triple-A stats last season, where he was a huge offensive threat even while sporting an unsightly strikeout rate. Of course, when your home ballpark is in Reno, Nevada, altitude, temperature, and low humidity are liable to spot you some points to your batting average and slugging percentage. The Nats will have a chance to see, at relatively low risk to them, whether Young is a potential contributor or a desert mirage.
Career stats (MLB): 4.37 ERA, 1.24 WHIP, 3.6% HR, 18.4% K, 6.7% BB
2021 stats (MLB): 5.74 ERA, 1.09 WHIP, 3.7% HR, 18.4% K, 4.6% BB
2021 stats (minors): 3.38 ERA, 0.88 WHIP, 0% HR, 31.3% K, 9.4% BB
On the 40-man roster?: No
Minor league options remaining?: No
Erasmo Ramírez, 32 in May, is a pretty OK reliever with a pretty obvious problem: Dude gives up bombs. The Nats are taking a flier on the Nicaraguan as a non-roster invitee to spring training, hoping he can be cheap middle relief help. He's best known to the Nats for his 2020 season with the New York Mets; otherwise, he's spent his entire career to date in the American League, last year with the Detroit Tigers.
Ramírez has never had much of a problem controlling on-base traffic. Even last season, when he was a fairly ineffectual member of the Tigers' relief corps, Ramírez allowed barely over one baserunner per inning pitched. But he just gives up too much hard contact and too many home runs, with only a 12% soft-contact rate last year, according to FanGraphs. Given his pedestrian strikeout numbers, it's kind of a wonder Ramírez has had the career he's had, as this would mark his eleventh straight year in MLB.
Still in his early 30s, Ramírez shouldn't be thought of as over-the-hill, although he'll need to make an affirmative case for himself because he's not on the 40-man roster. He ought to have a decent shot at cracking the roster and making the team out of spring training. But if he struggles to keep the ball off the barrel, the Nats haven't committed much and can move on. It's possible he could serve as injury depth in the minor leagues, as he accepted a Triple-A assignment last year with the Tigers and isn't likely to get an MLB offer coming off last season.
Career stats (minors): 3.96 ERA, 1.35 WHIP, 1.6% HR, 21.3% K, 10.2% BB
2021 stats (minors): 4.76 ERA, 1.44 WHIP, 3.2% HR, 24.3% K, 11.3% BB
On the 40-man roster?: Yes
Minor league options remaining?: Yes
Part of the Nats' return for trading Max Scherzer and Trea Turner last summer to the Los Angeles Dodgers, Gerardo Carrillo is an undersized righty with a big arm. The 23-year-old didn't have a particularly special season in 2021, but many evaluators are high on Carrillo, believing his stuff will play up out of the bullpen — virtually no one seems to think he's a starter long-term, although the Nats and Dodgers both used him as one — and he could help the big league club sooner rather than later.
Carrillo is decidedly in a position where if he "proves it", he can be a big part of the Nats as early as this year, but that's a real "if". Nothing about his numbers last year stands out, and he struggled particularly with Double-A Harrisburg, failing to win a promotion to Triple-A during the season while putting up a 5.59 ERA. That's not what the Nats were looking for when they acquired him, and they have to hope he can make an adjustment.
Despite his lackluster showing in 2021, Carrillo actually does have an outside shot to make the team just because the bullpen picture is so unsettled. The safe money is probably on Carrillo instead being assigned to either Double-A or Triple-A to begin the season, whether to start or relieve. The latter could suggest the Nats want to prepare him for a role in the bigs this year, while the former would indicate he's not seen as being that close yet.
Career stats (MLB): .246/.297/.423, 3.8% HR, 15.5% K, 6.6% BB
2021 stats (MLB): .210/.253/.355, 2.7% HR, 16.6%, 5% BB
On the 40-man roster?: No
Minor league options remaining?: No
Some guys just never reach their potential. It's fair to say Franco, 29, has been one of those guys. Once one of baseball's most touted prospects, Franco broke out with a strong rookie season in which he posted an .840 OPS with the Philadelphia Phillies. That was 2015. Since then, while he's at times been a useful player (25 homers in 2016, .780 OPS in 2018, .778 OPS in 2020), he's been plagued by inconsistency and dogged by persistent whispers that he's not a good clubhouse presence.
Franco exhibits an odd sine-wave pattern in which he seems to alternate decent and awful seasons. Fortunately for the Nats, if the pattern holds, he's due for a good season in 2022. If he's healthy and effective, there's little standing in the way of Franco and the everyday third baseman's job in Washington. That ought to put pressure on Carter Kieboom, himself on an underperformer's trajectory, to get it together and show something that will make the Nats want to give him the job.
Beyond serving as spring competition for Kieboom, Franco looks like he could stick around in the system as depth, although the details of his contract have yet to be reported. The Nats are notoriously thin at corner infield positions, so Franco could provide some innings at third base and even first base while waiting for his chance to be called up from Triple-A.
Career stats (MLB): .277/.346/.527, 5.8% HR, 22.6% K, 8.8% BB
2021 stats (MLB): .265/.334/.497, 5.5% HR, 21.6% K, 8.7% BB
On the 40-man roster?: Yes
Minor league options remaining?: Haha no
The ageless wonder Nelson Cruz has joined the Nats on a one-year deal, and Mike Rizzo surely hopes that this isn't the year that Cruz, 41, is finally defeated by Father Time. Best known for his years with the Texas Rangers, but also known to the Nats for his 2014 stint with the Baltimore Orioles before he moved on to Seattle, Cruz is a seven-time All-Star and four-time Silver Slugger who would surely love to finish his career with 500+ homers. He's 51 away, and he smashed 32 longballs last year, so it's not an impossible goal.
It's not quite fair to Cruz to characterize him as a one-dimensional player. I mean, from a certain standpoint, it is, but now that the designated hitter has come to the National League, that part doesn't really matter. As for his profile as a hitter, Cruz is a far better-rounded player than his spiritual successor in Texas, Joey Gallo. For his career, he's posted above-average batting averages and on-base percentages, meaning he can contribute even when he's not connecting on colossal dongs (that being said, I hope the seat-painters at Nationals Park are ready for him). But it might be for the best the Nats worked out a one-year pact with Cruz, who was off to a great first half in his 2021 campaign before he was fenced to the Tampa Bay Rays and only hit .226/.283/.442 down the stretch following the trade. That's the kind of dip that could well be a blip, but in a player's age-40 season, could certainly also be a danger sign.
Cruz likely answers the Nats' need at the new designated hitter position. As he is a right-handed hitter, it's fair to wonder whether the Nats could seek to platoon Cruz, and the $15 million guarantee he was given doesn't altogether break the bank; but the left-handed-hitting options on the free agent market this winter were limited from the start, and given the $15 million outlay as well as his track record, it's highly likely the Nats signed Cruz to play just about every day. For what it's worth, while there's a 114-point delta between his career OPS versus righties and lefties, it's hardly like he's been bad against righties. So expect to see him in the lineup most every day.
Career stats (MLB): 3.93 ERA, 1.36 WHIP, 2.4% HR, 18.6% K, 10.3% BB
2021 stats (MLB): 3.06 ERA, 1.33 WHIP, 1.3% HR, 16.7% K, 9.6% BB
On the 40-man roster?: No
Minor league options remaining?: No
A pretty nice under-the-radar get for the Nats on a split deal, Aaron Sanchez is a 29-year-old righty with significant upside. With middling (albeit passable) career numbers, Sanchez might be regarded as kind of disappointing given that he finished his third year in The Show with a 2.86 ERA, then posted a 5.29 ERA over the next three seasons, but after taking 2020 off to recover from a right shoulder injury, he rebounded in 2021 with the San Francisco Giants.
Sanchez has never had overpowering stuff, but at his best, he's been able to successfully limit hard contact (19.8% soft-contact rate for his career) and get outs by pitching to contact. FIP evaluations might not love him, but he's gotten the job done. The Nats have assembled what ought to be a decent-fielding team that should mesh well with Sanchez's style.
Mike Rizzo is taking a good gamble here on a pitcher who is still on the right side of 30 and pitched well enough in 2021, working both as a starter and out of the bullpen, to earn a major league contract. Instead, the Nats commit nothing but a promise to give him a fair shot in spring training. With both the rotation and bullpen containing some big question marks at this juncture, it wouldn't be a surprise at all to see Sanchez break camp with the Nats and start the year either in the rotation or anchoring their relief corps as a multi-inning option out of the 'pen. If the Nats choose not to carry him, smart money would be on him opting out and trying to latch on elsewhere.
Career stats (MLB): 2.65 ERA, 1.14 WHIP, 2.3% HR, 26.3% K, 7.6% BB
2021 stats (minors): 2.50 ERA, 1.11 WHIP, 2.1% HR, 31.3% K, 10.4% BB
On the 40-man roster?: No
Minor league options remaining?: Yes
So, here's one that's tough to figure. Víctor Arano, to all appearances just looking at his statline, is a good relief pitcher. He's 27. He pitched to a 1.69 ERA over ten games in his debut season with the Philadelphia Phillies, back in 2017. He dominated last year at Triple-A Gwinnett (sure, his walk rate is a bit on the high side there). He has options remaining, according to Roster Resource. And yet, the Atlanta Braves never called him up last year in their world championship season; he hasn't played in the majors at all since suffering an elbow injury midway through the 2019 season; and he was available to the Nats this winter on a minor league contract with an invitation to major league spring training camp.
What gives? Arano has, in fairness, been injury-prone in his career, suffering a rotator cuff injury in 2018 and needing elbow surgery in 2019. Phillies team officials suggested in September 2020 that he still wasn't fully healthy, although they were tight-lipped about what was going on. Arano also missed the tail end of the Triple-A season last year with an undisclosed issue. So, he has to prove that not only he can perform, he can also stay healthy for a full season while doing it.
Arano looks like credible relief depth at worst, and given the holes in the Nats' bullpen, he could certainly pitch his way into consideration for a roster spot this spring. He does have options remaining, so while the rule change means the Nats can't yo-yo him back and forth all season, they could call him up without having to fret about what to do with him once he's no longer needed.
Career stats (MLB): 3.43 ERA, 1.27 WHIP, 1.5% HR, 21.4% K, 9.4% BB
2021 stats (MLB): 12.60 ERA, 2.00 WHIP, 3.7% HR, 14.8% K, 11.1% BB
On the 40-man roster?: No
Minor league options remaining?: No
Nats fans may remember Avilán from his blink-and-you-missed-it stint with the team last year. This is Avilán's second straight year as a non-roster invitee to spring training in West Palm Beach, and while he pitched well enough last spring to crack the roster, he scuffled through all of five innings before tearing his UCL and requiring elbow surgery. He returns to Washington on another minor league deal, with hopes of carving out a successful role in D.C. while staying healthy.
It seems like Avilán has been around forever, having debuted with the Atlanta Braves back in 2012, but he's somewhat surprisingly only 32. That being said, he's had a rough go of it recently, appearing in just ten games in the 2020 season as a New York Yankee and struggling to a 5.06 ERA with the New York Mets in 2019, his last "full" season in MLB. Avilán has at times been a very effective and versatile lefty reliever, but after being known for keeping the ball in the yard in his early years, the home run ball has plagued him in recent campaigns, and his strikeout rate has declined.
It's all well and good for the Nats to invite Avilán to camp this year; after all, he didn't get much of a chance to impress last year before needing season-ending surgery, and the Nats invested in his rehabilitation and probably would like to see the fruits of it. But it's hard to project Avilán for much of a role in The Show this year, especially with the late acquisition of Sean Doolittle. He figures to be Triple-A depth, although the Nats could bring him up if the need arises.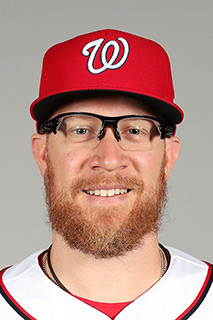 Sean Doolittle
Career stats (MLB): 3.23 ERA, 1.02 WHIP, 2.7% HR, 28.9% K, 5.8% BB
2021 stats (MLB): 4.53 ERA, 1.47 WHIP, 2% HR, 24% K, 10% BB
On the 40-man roster?: Yes
Minor league options remaining?: No
Every Nats fan knows who Sean Doolittle is. The 35-year-old southpaw returns for the 2022 season after serving as the Nats' primary closer from mid-2017 to mid-2019 and lefty setup man from mid-2019 through 2020. A fan favorite during his time in D.C., and one of the longest-tenured dedicated relievers in team history, Doolittle is sure to bring joy to fans and veteran leadership to the clubhouse.
But let's be clear-eyed here. Doolittle has outstanding career numbers that reflect years of sheer dominance as one of the best relievers in baseball; that's not an exaggeration, and he has two All-Star appearances and a World Series ring to show for it. He pitched to a sterling 1.60 ERA with the Nats in 2018 with an absurd 0.60 WHIP, one of the best-ever seasons by a Nats pitcher. Unfortunately, that was the last year in which Doolittle managed an ERA of under 4.00 for the season, let alone 2.00 or 3.00. He's suffered injury after injury, including one in the 2019 season that contributed to the Nats promoting Daniel Hudson to the closer's role and then multiple injuries in the shortened 2020 season that led to him only appearing in eleven games, with a stinky 5.87 ERA and 1.70 WHIP. He rebounded slightly with the Cincinnati Reds and the Seattle Mariners in 2021, but while his fastball velocity was up markedly from late 2019 and 2020, his normally pinpoint command was scattershot, leading to a walk rate sharply above his career norms.
The Nats evidently saw enough from watching Doolittle in 2021 to want him back and guarantee him a major league salary. At times, he did look like the Doolittle of old, and he finished the year with back-to-back-to-back appearances in which he retired every batter he faced and struck out five of ten. That's the guy the Nats want in 2022. Can Doolittle have a swan song in the city where he clearly wanted to be all along? Time will tell, but it seems like a safe bet that the Nats, and fans, will give him every opportunity to succeed this year.
Career stats (MLB): 6.86 ERA, 1.48 WHIP, 3.4% HR, 28.4% K, 14.8% BB
Career stats (minors): 4.30 ERA, 1.42 WHIP, 2.2% HR, 23.7% K, 12% BB
2021 stats (MLB): 15.88 ERA, 2.12 WHIP, 6.7% HR, 23.3% K, 20% BB
2021 stats (minors): 7.31 ERA, 1.62 WHIP, 7.1% HR, 20.6% K, 11.1% BB
On the 40-man roster?: No
Minor league options remaining?: Yes
Yeah, so, I got nothing. Normally, I can at least squint at the numbers and see some compelling reason for the Nats to give someone a shot in spring training. And I suppose that in fairness, Jordan Weems was quite effective for the Oakland Athletics in 2020, with a 3.21 ERA — only that came over just nine games in the coronavirus-shortened season, and nothing in Weems' minor league career really stands to suggest it was anything other than a fluke.
Clearly, the Nats are hoping that their professional "scouting" and "analytics" have given them a more accurate sense of Weems' capabilities than my amateur "looking at Baseball-Reference and FanGraphs while sitting in a La-Z-Boy". And if it turns out the 29-year-old, who was originally drafted as a catcher and transitioned to pitching as a Boston Red Sox rookie in 2016, is indeed what he appears to be, they've committed virtually nothing since he's on a minor league contract.
Weems is one of several journeymen at the fringes of the Nats' bullpen picture this spring. Assuming he doesn't wow everyone (in a good way), he'll probably be stashed at Triple-A Rochester for the season, where he might or might not factor into consideration for a midseason callup.
Career stats (MLB): 8.22 ERA, 2.41 WHIP, 3.9% HR, 13% K, 16.9% BB
Career stats (minors): 4.65 ERA, 1.42 WHIP, 2.8% HR, 19.4% K, 9.2% BB
2021 stats (NPB): 3.70 ERA, 1.56 WHIP, 2.3% HR, 22.9% K, 13% BB
On the 40-man roster?: No
Minor league options remaining?: Yes
While the Nats rarely get too involved in the bidding wars over Japanese players, they've been known to scoop up ex-MLBers looking to get back to the States after some time in Nippon Professional Baseball. The latest in the trend for Mike Rizzo is 29-year-old Henrico, Virginia, native Reed Garrett. The righty bombed out of affiliated ball with a woeful 13-game stint in 2019 as a Detroit Tiger, for whom he was a Rule 5 pickup; then he joined the Saitama Seibu Lions and acquitted himself decently. He's back Stateside on a minor league deal with the Nats, with an invitation to major league spring training.
Garrett's toplines with Seibu are, well, OK. He was more impressive in 2020, when he pitched to a 3.10 ERA, but his walk rate increased in 2021 and the result was an elevated ERA and an uncomfortably high WHIP. NPB is notoriously hitter-friendly, so the Nats may be hoping he's figured something out and can be effective in MLB. If nothing else, the Nats have to like Garrett's big fastball, which averaged 96 mph in 2019.
For evaluation purposes, toss Garrett on the pile of fringe-y relievers who will be fighting mostly for serious consideration to be called up at some point if the team is decimated by injuries, or in case a pitching-poor team is impressed when scouting a game. Expect him to report to Triple-A Rochester when all is said and done.
Career stats (minors): 3.64 ERA, 1.36 WHIP, 1.5% HR, 25.1% K, 11% BB
2021 stats (MLB): 8.44 ERA, 1.59 WHIP, 6.1% HR, 24.5% K, 14.3% BB
2021 stats (minors): 2.88 ERA, 1.01 WHIP, 1.2% HR, 28.8% K, 5.5% BB
On the 40-man roster?: No
Minor league options remaining?: Yes
It all started out so well for Alberto Baldonado when he made his major league debut with the Nats last season. One of a bumper crop of lesser-known prospects who found himself getting chances after the Nats traded away a significant share of their roster at the deadline, the Panamanian southpaw flashed a mid- to upper 90s fastball with late life and an effective secondary arsenal, memorably striking out 2021 MVP Bryce Harper in a big spot in his major league debut.
Baldonado was unscored upon through his first five appearances, striking out six and allowing three baserunners through those five innings (he did allow a couple of inherited runners to score). Then the wheels started coming off, and Baldonado skidded out of Davey Martinez's favor and eventually off the roster, as he was outrighted after the season. (In an odd statistical quirk, Baldonado never allowed just one earned run in an appearance. It was always either no runs or two runs charged to him.)
The Nats haven't entirely thrown in the towel on Baldonado, however, bringing him back on a minors deal and inviting him to spring training. He should have an outside chance to make the roster, although his odds got significantly slimmer when the Nats re-signed Sean Doolittle. Realistically, Baldonado ought to hope he has a decent spring and can replicate what was a downright excellent 2021 minor league season, earning consideration for a second shot at major league glory.
Career stats (MLB): 3.77 ERA, 1.14 WHIP, 2.4% HR, 32.3% K, 13.6% BB
2021 stats (MLB): 11.12 ERA, 2.47 WHIP, 9.7% HR, 19.4% K, 9.7% BB
2021 stats (minors): 2.37 ERA, 0.74 WHIP, 2.8% HR, 41.7% K, 5.6% BB
On the 40-man roster?: No
Minor league options remaining?: No
It may not seem like it, but it's been a long time since Carl's Jr. had any extended run at the major league level. Since the end of the 2018 season, Edwards only has logged 27⅓ MLB innings, with a distinctly unimpressive 7.90 ERA. And yet, the self-same Edwards decimated Triple-A hitters in 2021 over 17 innings (plus two at lower levels), with a sky-high strikeout rate and a microscopic walk rate. The 30-year-old is one of the bigger wildcards of spring training for the Nats, someone with a track record that says he can perform at a high level but a recent resume that isn't so spiffy.
The wiry righty has never been known as a pitcher with a great big bag of tricks. He's almost exclusively a fastball-curveball pitcher. The trick is that at his best, he can rev that heater up to 97-98 mph with movement. When his velo began to sink into the low 90s in 2019, it was a bad sign for Edwards, and he's battled arm and oblique issues over the past few seasons as well.
If Edwards is healthy, he's a credible bullpen option for the Nats and should have a shot to make the team. But given his struggles in recent years, if Edwards doesn't seem to have much to show, the Nats aren't likely to be shy about moving on. He's on a minor league contract with an invitation to spring training. He's limited somewhat by the fact that he is out of options, meaning that if the Nats call him up, they won't be able to send him back down without exposing him to waivers.
Career stats (MLB): 5.34 ERA, 1.55 WHIP, 3.5% HR, 16.8% K, 13.7% BB
2021 stats (MLB): 5.92 ERA, 1.73 WHIP, 5.4% HR, 17.9% K, 15.2% BB
On the 40-man roster?: No
Minor league options remaining?: No
Jefry Rodríguez pitched more than you remember him pitching in 2021. In fact, he appeared in fourteen games for the Nats, even starting one. The results for Rodríguez, in his second stint with the Nats, were underwhelming. Still, the Nats clearly like the big 28-year-old, seeing as that they signed him back after trading him to the Baseball Team Formerly Known as the Cleveland Indians for Yan Gomes after the 2018 season and they brought him back on a minor league deal with an invitation to spring training after outrighting him this winter.
Evaluating Rodríguez honestly is tough, because it really seems like a broad-shouldered, 6-foot-6 right-hander with a high-octane fastball ought to rack up the strikeouts, and yet J-Rod never really has. He's bounced around in a swingman capacity for a little while now since making his MLB debut with the Nats in 2018, and no one has yet found a role in which he's effective. His utility to the Nats, such as it is, is that he can either come out of the bullpen or he can start games when needed. The problem is that he's just not very good at either.
While he's already enjoyed success in that he's made it to The Show (and logged 123 innings there, believe it or not), the clock is ticking for Rodríguez to prove that he's an MLB-caliber arm. He figures to be on the outskirts of the rotation picture in spring training, although it wouldn't be surprising at all if he's only used in a relief role. The likely outcome is that he will be assigned to Triple-A Rochester and could be called up, as someone who at least knows where the restrooms are, if the Nats need a spot starter or a long man at some point in the season. He's out of options, though, so he'll need to be removed from the 40-man roster if he's to be sent back down.
Career stats (MLB): .276/.300/.345, 0% HR, 26.7% K, 3.3% BB
Career stats (minors): .283/.330/.432, 2.7% HR, 15.8% K, 5.7% BB
2021 stats (minors): .300/.346/.494, 3.5% HR, 15.6% K, 6.1% BB
On the 40-man roster?: No
Minor league options remaining?: Yes
Professional Ryan Zimmerman impersonator Jake Noll has done nothing but hit everywhere he's been. He was a surprise inclusion on the Nats' Opening Day roster in 2019, with one memorable early-season moment coming when he drew a bases-loaded walk in extra innings (back before Rob Manfred gifted MLB with the unearned runner, natch) for a walkoff win. But while Noll has showed off some impressive power in the minors, he hasn't tapped into it over a modest 30 plate appearances in MLB, with nary a homer; and while he's been a pesky contact hitter at those lower levels, his strikeout rate has shot up and his walk rate has dropped off in his limited exposure to major league pitching.
While the general consensus is that Noll can hit — maybe not at an elite level, but he hasn't embarrassed himself or anything — the 28-year-old is limited more by the fact that he's a man without a position. Noll has played just about everywhere in the minors, but he's not regarded as a particularly gifted defender anywhere, and even in just his limited major league action, he's looked bad on a few fairly routine plays. If Noll were a steadier third baseman, he might have challenged Carter Kieboom for playing time; if he were a more natural second baseman, he could have been the guy for the Nats after Starlin Castro was kicked off the team last year for conduct unbecoming. But, he's not, and he wasn't. He didn't taste the majors at all last year, and now that he's lost his 40-man roster spot, he's on the outside looking in this spring.
The Nats clearly like Noll enough to have brought him back and invited him to spring training, and the native Floridian will likely play around the diamond in Grapefruit League action before the season starts. The ideal outcome for Noll is that either he adjusts to MLB pitching well enough to be a credible depth option in left field, or that he improves his defense enough to be an MLB-grade utility player off the bench. Neither is impossible, but they're heavy lifts for a player who was never a touted prospect and has had to defy expectations to get as far as he's come. Then again, for a player like that, a heavy lift is just another challenge to overcome.
Career stats (minors): .238/.308/.393, 2.8% HR, 22.1% K, 8.5% BB
2021 stats (MLB): .000/.000/.000, 0% HR, 75% K, 0% BB
2021 stats (minors): .223/.295/.377, 2.9% HR, 30% K, 9% BB
On the 40-man roster?: No
Minor league options remaining?: Yes
The prodigal Nats farmhand has returned to the organization on a minor league deal. Taylor Gushue's 2021 stint with the Chicago Cubs was unsuccessful in every way save for the most important one in any player's career: He made his major league debut. The Cubs had seen enough after just four plate appearances (he struck out thrice and didn't reach base) and sent him back to Triple-A Iowa, where he scuffled through a tough season.
Now 28, Gushue is just a few years removed from a really good Triple-A season in Fresno, when he put up an .875 OPS and curbed his strikeout rate somewhat. Of course, the old Pacific Coast League was (and is, in its new Triple-A West form) known as a hitter's league, and since Gushue has otherwise been a below-average bat, it's hard to put a lot of stock into those results. Catchers aren't expected to hit a ton, but striking out 30% of the time in your third year at Triple-A is rough.
The Nats see enough in Gushue, or at least value his familiarity with the organization, to have brought him back and invited him to major league spring training. Gushue is actually listed on MLB.com as an infielder, although that may be an error, given he has just limited experience at first base and none elsewhere on the diamond. Expect him to handle some catching duties this spring. He could serve as minor league depth during the season, although given the need for Tres Barrera and Drew Millas to get reps, it's tough to see where he'll get a lot of playing time.
Career stats (minors): .238/.317/.367, 1.9% HR, 20.4% K, 10% BB
2021 stats (minors): .227/.307/.385, 2.6% HR, 21.9% K, 10.1% BB
On the 40-man roster?: Yes
Minor league options remaining?: Yes
Just putting the overall season numbers up there doesn't really do justice to Yasel Antuna's 2021 campaign. The infielder, who turned 22 last October, could not buy a hit for the first part of the season, going 0-for-30 in his first nine games before crushing a walkoff homer to snap the skid. After going 4-for-67 in May, things started picking up for Antuna — slowly at first, with a borderline respectable 18-for-81 June, then an abruptly torrid 34-for-108 July in which he posted a .917 OPS. Finally looking like the Yasel Antuna evaluators had raved about in 2020, the Dominican put up a solid .268/.347/.433 line over the final 48 games of the season, showing good on-base skills and modest power.
Unfortunately, in the other half of Antuna's job, to say he's been a work in progress doesn't really do justice to "progress". Antuna committed a ghastly 36 errors in 2021 as the High-A Wilmington shortstop, with an .894 fielding percentage nearly identical to that which he posted in his previous full season, in 2018 (he missed most of 2019 with injuries). It didn't come as a huge surprise to hear after the season that the Nats began converting Antuna into an outfielder in instructional league. There is a little bit of precedent for the Nats taking a defensively, um, awful infielder and turning him into a quality outfielder — Michael A. Taylor, anyone? — so hope isn't lost that Antuna can provide some value on the grass.
With no experience above High-A, Antuna isn't a candidate to break camp with the team, although he is on the 40-man roster. This will be fans' first chance to see him as an outfielder, assuming that's where he plays, and he'll have an opportunity to work with the major league coaching staff as he adjusts to a new role. Antuna ought to begin the season at Double-A Harrisburg, but he has an outside chance to make his major league debut this season if he performs well and the Nats have needs arise in the outfield.
Career stats (MLB): .262/.287/.328, 0% HR, 23% K, 2.9% BB
2021 stats (MLB): .257/.316/.314, 0% HR, 10.5% K, 7.9% BB
2021 stats (minors): .314/.363/.447, 2.3% HR, 16.1% K, 6.3% BB
On the 40-man roster?: No
Minor league options remaining?: No
One of the Nats organization's longest-tenured players, Sánchez has been in the system since 2007. Now 31, the infielder is in a familiar place this spring: minor league contract, major league camp. He's one in a bunch of veteran utilitymen looking to find a place on the Nats' bench.
Sánchez actually had a solid 2021 season, performing well with Triple-A Rochester and getting back to the majors for sixteen games, where he showed much improved (if still well short of elite) plate discipline, as his strikeout rate was down from career norms and his walk rate was up. He still doesn't own an MLB home run (although he's had a couple close calls), something he'd surely like to have on his resume, but he filled in decently when called upon after the trade deadline, and the promotion was well-deserved given his quality play at Triple-A.
This spring, Sánchez doesn't figure as a favorite to make the team, although it's not out of the question that he does. The Nats appreciate his defensive versatility (he's seen time at both corner outfield spots, although he's best regarded as an infielder who can play all four positions), and his longevity in the organization certainly would suggest that the Nats like having him around. The likely outcome for Sánchez is that he'll be assigned back to Triple-A Rochester, where he'll be a top depth option for Mike Rizzo in case of injuries or another midseason selloff.
Career stats (MLB): .253/.300/.336, 0.8% HR, 31.6% K, 5.7% BB
2021 stats (minors): .272/.310/.438, 2.6% HR, 23.1% K, 4.5% BB
On the 40-man roster?: No
Minor league options remaining?: No
Ureña, 26, joins the Nats on a minor league deal after a reasonably solid season for Triple-A Buffalo in which he failed to make it back to the major leagues. Ureña appeared in parts of three consecutive MLB seasons, from 2017 to 2019, with the Toronto Blue Jays, but he was waived after the 2019 season, spent the 2020 season as a member of the Baltimore Orioles organization, then returned to the Jays on a minor league deal for 2021. He makes his first foray outside the AL East with the Nats this year.
While Ureña is one of the youngest non-roster journeymen in camp, he's been treading water for a while. His 2019 underperformance prompted Toronto to let him go, and he didn't quite do enough in 2021 to get back to The Show. Now he's out of minor league options, removing his potential usefulness as an up-and-down bench player, and significant concerns remain about his feel to hit. Most significantly, Ureña simply doesn't walk enough to be projected for a major league role, with a dismal 16-to-81 walk-to-strikeout ratio for Triple-A Buffalo even as he posted a respectable .749 OPS.
Ureña has mostly worked as a shortstop and second baseman, although he has a little experience at both corner infield positions and has gotten a handful of looks in the outfield. He fits in with other defensively versatile, offensively challenged players in the Nats' spring training camp. Realistically, Ureña is probably at the periphery of the bench picture because he doesn't get on base enough and only has limited experience outside the middle infield. The Nats will likely stash him at Triple-A Rochester as potential injury depth.
2021 stats (minors): 3.36 ERA, 1.27 WHIP, 1% HR, 33.5% K, 11.5% BB
On the 40-man roster?: No
Minor league options remaining?: Yes
It's easy to forget the Nats' top pitching prospect actually made his professional debut just last season, and yet he finished the year at Triple-A. Cavalli, 23, was the Nats' first-round draft pick in 2020 out of the University of Oklahoma, and while he didn't record a game in 2020 due to the cancellation of the minor league season, he started hot and rose quickly in 2021.
Predictably, Cavalli dominated lower-level hitters, putting up a 1.77 ERA while punching out 71 of the 158 batters he faced at High-A Wilmington. He struggled at first with his promotion to Double-A Harrisburg but figured things out, earning another promotion with a 2.79 ERA at that level. The season ended before we could see the pattern repeat itself at Triple-A Rochester, as he put up a not-so-good 7.30 ERA and 1.87 WHIP over six games there. The clear takeaway is that while Cavalli was able to overpower less experienced hitters, he struggled to fool seasoned Triple-A hitters into swinging at pitches out of the strikezone — although interestingly, Cavalli's 10.7% walk rate at Triple-A is actually a little lower than his 11.5% walk rate on the season. Likely batters at Triple-A were more prepared and able to take advantage of Cavalli's mistakes in location, and he couldn't rely on his stuff to simply blow them away, as evidenced by a decline in his strikeout rate to a rather pedestrian 19.8% at Triple-A.
Despite Cavalli's growing pains, evaluators continue to peg him as one of the sport's best right-handed pitching prospects. He appeared in the All-Star Futures Game last year, where he exhibited both the blistering fastball and wipeout secondary stuff that make him such a touted prospect and the command and control issues that leave just a little too much room for doubt. With a stronger showing at Triple-A last season, Cavalli could be a serious candidate this spring to break camp with the Nats. As it is, while the Nats could consider carrying him, he doesn't appear ready for a major league rotation role. The hope is he will be sometime this season, ideally before he turns 24 in August.
Career stats (minors): 5.38 ERA, 1.32 WHIP, 1.2% HR, 24.9% K, 10.9% BB
2021 stats (minors): 7.68 ERA, 1.65 WHIP, 1.2% HR, 23.8% K, 11.6% BB
On the 40-man roster?: No
Minor league options remaining?: Yes
2021 was a year to forget for Jackson Rutledge, who entered the season considered by some to be the Nats' top prospect and ended it with a lot of question marks about his future. The 6-foot-8 righty battled blisters and a rotator cuff strain, had to rebuild his delivery on the fly, and disappointed on the mound after a crisp 3.13 ERA in 2019, when he was the Nats' first-round draft pick. He pitched at Low-A and High-A levels, failing to advance to Double-A despite lofty preseason expectations.
Rutledge, 23 in April, is still very much a work in progress, but the tools are there. He can gas his fastball up into the high 90s, he has a nasty slider and a developing curveball, and at his best, he can intimidate hitters with his physicality, mound presence, and aggressiveness in the strikezone. As with 2020 first-rounder Cade Cavalli, questions surround Rutledge's ability to command his pitches well enough to get outs at higher levels. But while Cavalli dominated High-A and eventually earned promotions up to Triple-A, Rutledge struggled badly at High-A, where he put up a horrid 12.66 ERA over four games. Cavalli is now clearly well ahead of Rutledge as a prospect, and while Rutledge has a chance to turn it around, 2022 looks like a pivotal year for him.
First and foremost, the Nats want to keep Rutledge healthy. His new pitching motion is intended to reduce stress on his shoulder, but the hope is also that it will improve Rutledge's command. While Rutledge is in major league camp, he's bound for the minor leagues, likely to repeat High-A. If all goes well, a healthy Rutledge will master the level and follow Cavalli up the developmental ladder. Continued struggles with command could tempt the Nats to pull the plug on Rutledge as a starter and try to develop him as a reliever, a role to which many evaluators have begun suggesting he might be better suited.
Career stats (minors): 2.08 ERA, 1.12 WHIP, 1.5% HR, 44.2% K, 13.1% BB
2021 stats (minors): 3.00 ERA, 1.20 WHIP, 1.7% HR, 41.3% K, 13.2% BB
On the 40-man roster?: No
Minor league options remaining?: Yes
Cronin's strikeout numbers are mouth-watering. The 24-year-old lefty clearly has the stuff, striking out nearly two batters per inning at High-A Wilmington before being promoted to Double-A Harrisburg. Cronin did only record 30 innings last season, hampered by injuries, and his walk rate at Double-A was concerning (19.6%, much too high). But it's not hard to see why some evaluators peg Cronin as the Nats' closer of the future, maybe even as soon as this season.
Cronin was virtually untouchable at High-A, posting a 1.23 ERA over ten games. In ten more at Double-A, he scuffled to a 5.56 ERA, less because he wasn't striking out batters (35.3% of his batters faced whiffed at the higher level) and more because he just allowed too many baserunners. In fact, Cronin gave up more walks (ten) than hits (nine) after his promotion to Double-A. Somewhat interestingly, his command issues didn't translate to many "bad" misses, as he had just one wild pitch and one hit batsman in his 30 innings. (By way of comparison, Jackson Rutledge uncorked seven wild ones and hit three batters in his 36⅓ frames.) That may suggest he can rein in the walks with relatively minor adjustments.
The Nats probably won't give Cronin serious consideration for the Opening Day roster this spring, although with continued improvement, his time will come soon enough. After very limited action in the Grapefruit League games last spring, however, figure Cronin gets a little more run this time around. He'll likely go back to Double-A Harrisburg to start the season, but if he figures things out in the high minors, we could see him in D.C. before the end of the year.
2021 stats (minors): .264/.372/.348, 0.8% HR, 13.8% K, 14.1% BB
On the 40-man roster?: No
Minor league options remaining?: Yes
While you don't hear his name mentioned a lot in discussions of Nats prospects, 24-year-old Drew Millas surely has one of the most intriguing profiles of anyone in camp this spring. Acquired last July from the Oakland Athletics in the multi-player deal that sent Yan Gomes and Josh Harrison to the Bay Area, Millas is a smooth defensive catcher with a strong arm, as well as a highly disciplined hitter. He was invited to participate in the Arizona Fall League after the 2021 season — his first as a professional, as he didn't play in 2019 after he was drafted and the 2020 minor league season was a scratch — and while his .196 batting average there was unimpressive, his 13-to-4 walk-to-strikeout ratio was legitimately eye-popping.
Millas has never hit a ton, but he walked more than he struck out last year (54-to-53 during the regular season) and he got on base a ton. While he didn't display much power after being traded, with all three of his regular-season homers coming with High-A Lansing, his batting average ticked up to .284 for High-A Wilmington, and he did pop a homer in the Fall League as one of his ten hits there. Catchers aren't really called upon to be offensive threats, so Millas being a low-power hitter with very good on-base skills is just fine, especially for a potential backup.
The Nats seemingly have the first three spots on their catching depth chart locked down, with Keibert Ruiz expected to be their long-term starter at the position, Riley Adams looking like an above-average backup, and Tres Barrera waiting in the wings likely at Triple-A. But Millas is a strong candidate to be fourth on that depth chart with a good 2022 season, with a chance to leapfrog Barrera as the go-to injury reserve. The Nats will get a better look this spring at Millas before likely assigning him to Double-A Harrisburg.
Career stats (MLB): .205/.282/.344, 2.5% HR, 27.4% K, 9.5% BB
2021 stats (minors): .222/.281/.431, 3.9% HR, 30.1% K, 12.2% BB
On the 40-man roster?: No
Minor league options remaining?: No
The Nats like bringing an old veteran catcher to spring training on a minor league deal, and this year's entry is 34-year-old Chris Herrmann. Lefty-hitting Herrmann hasn't been heard from in the majors for a little while, last appearing in 2019, when he slashed a paltry .202/.280/.274 for the Oakland Athletics over 30 games. He spent all of last season at Triple-A Worcester, in the Boston Red Sox organization, where he showed some decent power and an improved walk rate.
The knock on Herrmann is an obvious one: He strikes out too much. He's ended more than one-quarter of his MLB plate appearances on a K, and while his other outcomes improved, it's nonetheless a worrying sign that he struck out at an even higher clip in the minor leagues last season. Even still, players who strike out a lot can be forgiven if they do damage, and Herrmann's seven home runs in 48 games last year does suggest a degree of power he hadn't really displayed in seasons prior.
Herrmann is presumably in camp as competition for the backup catcher spot. Riley Adams likely has that position locked down, but the Nats have occasionally opted, in the past, to go with their old veteran in a reserve role — so it's not impossible that Herrmann could make the team. If he doesn't, given that he spent all of 2021 in the minor leagues, he could report to Triple-A Rochester and spell Tres Barrera until Drew Millas is ready for that level.
Career stats (minors): .223/.315/.336, 1.5% HR, 23.8% K, 8.2% BB
2021 stats (minors): .214/306/.289, 1.1% HR, 25.7% K, 6.6% BB
On the 40-man roster?: No
Minor league options remaining?: Yes
While the numbers belie it, 25-year-old Jackson Cluff is actually considered one of the Nats' most promising positional prospects. Despite a disappointing season in which Cluff lost time due to injuries and underperformed when he was able to play, he was invited to participate in the Arizona Fall League last year, where he was one of the biggest surprises for Surprise (sorry) with a robust .342/.432/.456 triple slash over 22 games.
Evaluators rave about Cluff's leadership skills, something the Nats prize in their shortstops. He's also a relatively rare (for a shortstop) left-handed hitter. Unfortunately, though, Cluff has some clear drawbacks to his game — the most obvious one being his meager walk rate. Some players simply don't walk, and in a limited sample size, that seemed to be the case with Cluff this season. For Double-A Harrisburg, he had a crummy 9-to-39 walk-to-strikeout ratio, whiffing too much while walking too little. Stuff like that is a clear "Quadruple-A" warning sign and shouldn't be ignored; it's something Cluff will need to improve upon this year.
And this year really is a big one for Cluff. He turns 26 just days before the Rule 5 draft, for which he'll be first-time eligible. The clock is ticking for him to turn the corner and develop into a major league-caliber player. While Cluff likely has the ceiling of a utility infielder, that would still be a valuable role for the Nats. The team's infield picture over the next few seasons is anything but clear, given the underperformances of Luis García and Carter Kieboom and former top corner infield prospect Drew Mendoza's failure to thrive. So while Cluff will almost certainly begin the season in the minors, look for the Nats to continue being aggressive with him this year, potentially even giving him a look in the big leagues if he carries over some of his AFL success into the 2022 season.
Career stats (minors): .229/.387/.357, 2.6% HR, 23.9% K, 6.6% BB
2021 stats (minors): .208/.260/.389, 4.4% HR, 26.3% K, 5.7% BB
On the 40-man roster?: No
Minor league options remaining?: Yes
When the Nats cashed in their biggest trade chips in team history last July to get Keibert Ruiz, the writing on the wall for their onetime "catcher of the future" was clear. While Israel Pineda was considered a high-quality prospect not long ago, that cachet hasn't survived contact with full-season pitching. Pineda did turn some heads with his fourteen High-A homers in 2021, and he earned an invitation to the Arizona Fall League, where he slashed a stalwart .296/.355/.370 over nine games (no homers). But his on-base percentage was atrocious and his strikeout rate was on the high side, mitigating his value by quite a bit. He saw his playing time decrease in the later part of the season after the Nats traded for Drew Millas, who also went to the Fall League.
At the risk of sounding like a broken record: Hitters who rarely walk and strike out a lot are going to struggle to break into the big leagues. And Pineda, 22 in April, is still a few steps from even being in that conversation. He's fallen well down the depth chart, likely behind every other catcher in the Nats' spring training camp this year, although his presence on the major league side at West Palm Beach and his invitation to the Arizona Fall League last year at least indicate he's still on it. Prospect evaluators have largely soured on Pineda, both offensively and defensively. (For what it's worth, he did throw out 40% of attempted base-stealers last season, but with the devaluation of the stolen base in the contemporary game, that means less than it used to.)
Pineda is organizational depth at this point. Despite his youth, he is Rule 5-eligible and has been for a couple of winters now, and the Nats haven't promoted him to the 40-man roster, a clear indication that he's not highly valued as part of the team's future. He could still play his way into consideration for a real role, but he has a long way to go and a lot of people in front of him at this point. He could repeat the level at High-A Wilmington this season, allowing both Millas and Pineda to get regular reps behind the plate, or the Nats could move him up to Double-A Harrisburg presumably as the second-string option behind Millas.