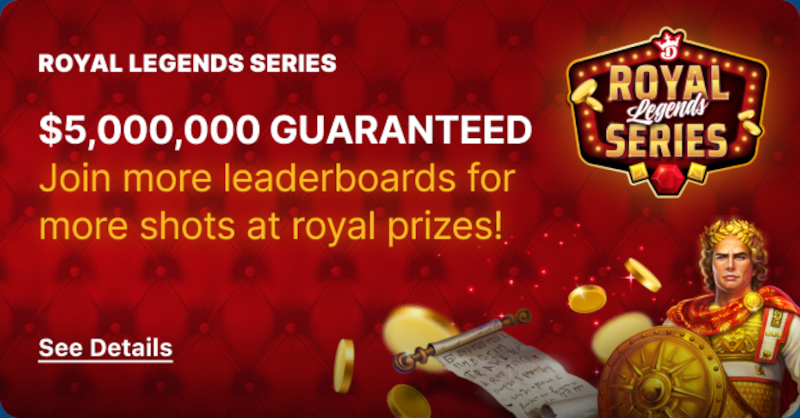 The US online casino market is a very hot and very competitive space and operators are always looking for new and interesting ways to entice new players to join and to keep current players engaged. In the sea of promotions, it's rare to find one that is truly unique and stands out from the crowd, but every now and again, someone comes up with something rather special and that is exactly what DraftKings Casino has achieved with its Royal Legends Series.
In addition to a series of smaller tournaments running through May 22, the Royal Legends Main Leaderboard offers an actual crown made of gold and jewels for the winner. The value of the crown is estimated at $200,000, so this is definitely a prize fit for royalty.

Last verified: March 2022
Special Signup Offer
100% deposit bonus up to $2000!
$50 in no deposit credits after registering
Generous rewards program
Over 500 popular video slots
$5,000,000 in Prizes at DraftKings Online Casino
While the golden crown is the main prize for the overall winner, there are many more prizes and awards waiting along the way and for top finishers on the DraftKings Casino Royal Legends Series leaderboard. By the time it is all said and done, the operator will dish out $5,000,000 in total prizes to the winners.
Over the course of the promotion, players will get a chance to participate in a number of qualifying competitions, each one having its own prize pool and awarding points for the main leaderboard.
There are two tiers of Royal Legends Series qualifying leaderboards:
Nobility — featuring $500,000 in prizes and awarding up to 750 Royal Legends Series points
Majesty — featuring $1,000,000 in prizes and awarding up to 2500 Royal Legends Series points
To participate, players need to opt-in on the DraftKings casino app for the individual series they want to compete in. After that, they can play the qualifying games to place as high as possible on that particular leaderboard, earning valuable prizes and Royal Series points along the way.
A Gold Crown, A New Car, and Other Prizes Await the DraftKings Casino Royal Legends Winners
Main leaderboard points are updated regularly, so players can always see their overall standings. When all qualifying events have been completed, winners will be announced, and they will receive their respective prizes.
As mentioned, the big winner will get their hands on a crown made of gold and jewels worth $200,000. However, everyone making it into the top 750 spots can look forward to taking home some prizes.
The runner-up will certainly not be disappointed, as DraftKings Online Casino has prepared a restored 1960s Cadillac worth $100,000. The third-place finisher will receive a tropical vacation of their choice with private plane transport valued at $50,000.
Other prizes DraftKings Casino is giving away in the Royal Legends Series include home theaters, 14K gold coins, home makeovers, gadgets, gift cards, and free casino credits.

Last verified: March 2022
Special Signup Offer
100% deposit bonus up to $2000!
$50 in no deposit credits after registering
Generous rewards program
Over 500 popular video slots
A Cool Marketing Stunt by DraftKings Casino
Casino bonuses, money, new cars — these are prizes that you will come across in countless casino promotions, but DraftKings Casino US has pulled an interesting stunt by featuring a custom-made one-of-a-kind gold crown for the winner of the big event.
Although it sounds pretty cool at first, one lingering question is — how many people would actually be comfortable keeping a piece of memorabilia worth $200k in their homes? Not to mention that most people would probably prefer cash at the end of the day.
Looking at the promotion's fine print, it seems that the casino will give the winner the option to take free casino credits (with just 1x wagering) instead of the actual crown if that is their preference.
That said, there are probably those who would not mind being crowned a casino king or queen and would find a convenient place to display this rather strange but unique reward.
Either way, although the contest has been underway since the start of March, there is still plenty of time to get involved and have a real shot at Royal Leaderboards Series prizes, plus, each individual leaderboard offers plenty of value and chances to win.
DraftKings is also offering an incredible welcome bonus in the form of a 100% deposit bonus up to $2000 and a free $50 in bonus funds for all new players. If you live in NJ, PA, WV, MI, or CT and haven't signed up for DraftKings Casino yet, then now would certainly be a great time to check out DraftKings Online Casino and get in on this exciting promotion and hopefully win a cool prize!
Learn more about welcome bonuses, promotions, games, and more in our comprehensive and honest reviews of DraftKings Casino PA, DraftKings Casino NJ, DraftKings Casino MI, and DraftKings Casino WV